Breakdown operators restricted
23rd January 1970
Page 20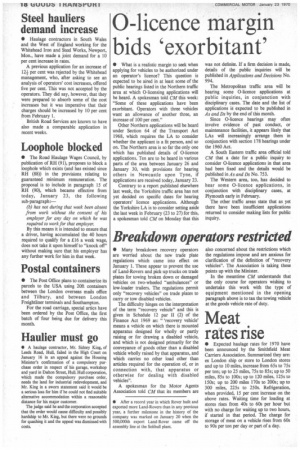 Page 20, 23rd January 1970 —
Breakdown operators restricted
Close
• Many breakdown recovery operators are worried about the new trade plate regulations which came into effect on January 1. These appear to prevent the use of Land-Rovers and pick-up trucks on trade plates for towing broken down or damaged vehicles on two-wheeled "ambulances" or low-loader trailers. The regulations permit only "recovery vehicles" on trade plates to carry or tow disabled vehicles.
The difficulty hinges on the interpretation of the term "recovery vehicle" and this is given in Schedule 12 par II (2) of the Finance Act 1969 as: "'recovery vehicle' means a vehicle on which there is mounted apparatus designed for wholly or partly raising or for drawing a disabled vehicle, and which is not designed primarily for the conveyance of goods other than a disabled vehicle wholly raised by that apparatus, and which carries no other load other than articles required for the operation of, or in connection with, that apparatus or otherwise for dealing with disabled vehicles".
A spokesman for the Motor Agents Association told CM that its members are also concerned about the restrictions which the regulations impose and are anxious for clarification of the definition of "recovery vehicles". The Association is taking these points up with the Minister.
In the meantime CM understands that the only course for operators wishing to undertake this work with the type of equipment mentioned in the opening paragraph above is to tax the towing vehicle at the goods vehicle rate of duty.