0-licence margin bids 'exorbitant'
23rd January 1970
Page 20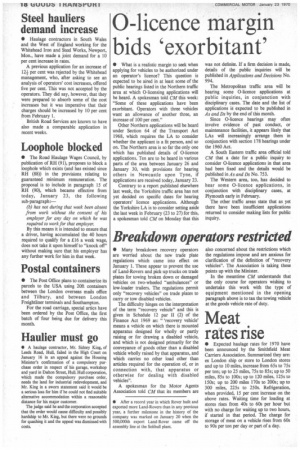 Page 20, 23rd January 1970 —
0-licence margin bids 'exorbitant'
Close
• • What is a realistic margin to seek when applying for vehicles to be authorized under an operator's licence? This question is expected to be aired in at least some of the public hearings listed in the Northern traffic area at which 0-licensing applications will be heard. A spokesman told CM this week: "Some of these applications have been exorbitant. Operators with three vehicles want an allowance of another three, an increase of 100 per cent."
Other Northern applications will be heard under Section 64 of the Transport Act 1968, which requires the LA to consider whether the applicant is a fit person, and so on. The Northern area is so far the only one which has published details of 0-licence applications. Ten are to be heard in various parts of the area between January 26 and January 30, with provisions for hearing others in Newcastle upon Tyne, if applications are received today, January 23.
Contrary to a report published elsewhere last week, the Yorkshire traffic area has not yet decided on specific dates for hearing operators' licence applications. Although the Yorkshire LA is to consider setting aside the last week in February (23 to 27) for this, a spokesman told CM on Monday that this was not definite. If a firm decision is made, details of the public inquiries will be published in Applications and Decisions No. 994.
The Metropolitan traffic area will be hearing some 0-licence applications at public inquiries, in conjunction with disciplinary cases. The date and the list of applications in expected to be published in As and Ds by the end of this month.
Since 0-licence hearings may often involve evidence of past conduct, or maintenance facilities, it appears likely that LAs will increasingly arrange them in conjunction with section 178 hearings under the 1960 Act.
A South Eastern traffic area official told CM that a date for a public inquiry to consider 0-licence applications in that area had been fixed and the details would be published in As and Ds No. 753.
The Western area, too, has decided to hear some 0-licence applications, in conjunction with disciplinary cases, at Plymouth early in February.
The other traffic areas state that as yet there have been insufficient applications returned to consider making lists for public inquiry.