Replacing a sick owner driver
23rd January 1970
Page 19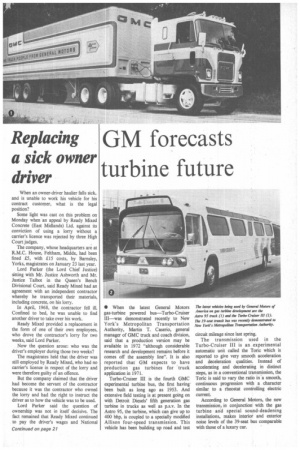 Page 19, 23rd January 1970 —
Replacing a sick owner driver
Close
When an owner-driver haulier falls sick, and is unable to work his vehicle for his contract customer, what is the legal position?
Some light was cast on this problem on Monday when an appeal by Ready Mixed Concrete (East Midlands) Ltd. against its conviction of using a lorry without a carrier's licence was rejected by three High Court judges.
The company, whose headquarters are at R.M.C. House, Feltham, Middx, had been fined £5, with £15 costs, by Barnsley, Yorks, magistrates on January 23 last year.
Lord Parker (the Lord Chief Justice) sitting with Mr. Justice Ashworth and Mr. Justice Talbot in the Queen's Bench Divisional Court, said Ready Mixed had an agreement with an independent contractor whereby he transported their materials, including concrete, on his lorry.
In April, 1968, the contractor fell ill. Confined to bed, he was unable to find another driver to take over his work.
Ready Mixed provided a replacement in the form of one of their own employees, who drove the contractor's lorry for two weeks, said Lord Parker.
Now the question arose: who was the driver's employer during those two weeks?
The magistrates held that the driver was still employed by Ready Mixed, who had no carrier's licence in respect of the lorry and were therefore guilty of an offence.
But the company claimed that the driver had become the servant of the contractor because it was the contractor who owned the lorry and had the right to instruct the driver as to how the vehicle was to be used.
Lord Parker said the question of ownership was not in itself decisive. The fact remained that Ready Mixed continued to pay the driver's wages and National
Continued on page 27