Blueprint for trouble
23rd January 1970
Page 17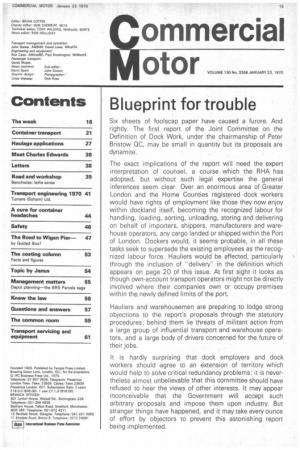 Page 17, 23rd January 1970 —
Blueprint for trouble
Close
Six sheets of foolscap paper have caused a furore. And rightly. The first report of the Joint Committee on the Definition of Dock Work, under the chairmanship of Peter Bristow QC, may be small in quantity but its proposals are dynamite.
The exact implications of the report will need the expert interpretation of counsel, a course which the R HA has adopted, but without such legal expertise the general inferences seem clear. Over an enormous area of Greater London and the Home Counties registered dock workers would have rights of employment like those they now enjoy within dockland itself, becoming the recognized labour for handling, loading, sorting, unloading, storing and delivering on behalf of importers, shippers, manufacturers and warehouse operators, any cargo landed or shipped within the Port of London. Dockers would, it seems probable, in all these tasks seek to supersede the existing employees as the recognized labour force. Hauliers would be affected, particularly through the inclusion of -delivery" in the definition which appears on page 20 of this issue. At first sight it looks as though own-account transport operators might not be directly involved where their companies own or occupy premises within the newly defined limits of the port.
Hauliers and warehousemen are preparing to lodge strong objections to the report's proposals through the statutory procedures: behind them lie threats of militant action from a large group of influential transport and warehouse operators, and a large body of drivers concerned for the future of their jobs.
It is hardly surprising that dock employers and dock workers should .agree to an extension of territory which would help to solve critical redundancy problems: it is nevertheless almost unbelievable that this committee should have refused to hear the views of other interests. It may appear inconceivable that the Government will accept such arbitrary proposals and impose them upon industry. But stranger things have happened, and it may take every ounce of effort by objectors to prevent this astonishing report being implemented.