THE PRINCIPAL FACTOR IN RUNNING COSTS.
22nd March 1921
Page 29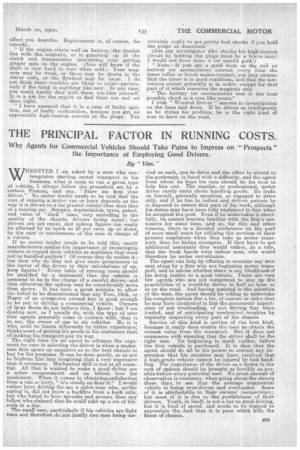 Page 29, 22nd March 1921 —
THE PRINCIPAL FACTOR IN RUNNING COSTS.
Close
Why Agents for Commercial Vehicles Should Take Pains to Impress on "Prospects the Importance of Employing Good Drivers.
By"
Vim. "
WHENEVER I am asked by a man. who contemplates starting motor transport in his business, what it costs to run a. given, type of vehicle, I always follow the precedent set by a certain Pieman, and say, "Show 3330 firstyour driver." No motor trader needs to be told that the cost of running a motor van or lorry depends on the way it is driven to a far greater extent than does that of a touring car. Repairs, depreciation, tyres, petrol, and value of " clock " time, vary according to the quality of the chassis, drivers being equal ; but drivers are not equal, and upkeep figures can easily be affected by as much as 20 per cent, up or down, by the care or carelessness of the man in charge of a vehicle.
If no motor trader needs to be told this, surely manufacturers realize the importance of encouraging owners to regard their vehicles as machines that must not be handled anyhow? Of course they do realize it ; but then why do they not give more prominence to the factor, of the dryer in their calculations. of upkeep figures? Every table of running costs should be qualified by a statement that the vehicle is assumed to be in the charge of a careful drivere-and that otherwise the upkeep may be considerably more than alitawn. It has been a great mista,ke to allow the belief to be disseminated, that any Tom, Dick, or Harry of an overgrown errand boy is good enough to be put, to driving a commercial vehicle. Owners of large fleets do not believe this I know ; but I am dealing now, as I usually do, with the type of user that agents generally come in contact with, that is to say, the owner of one to six vehicles. He it is who, until he learns differently by bitter experience; thinks more of getting his goods to his customers than of making his transport pay its way. .
The right time for an agent to advance the argument for care in selecting the driver is when a tradesman first opens up enquiries as to the best chassis to buy for his purposes. It can be done gently, so as not to frighten him into imagining that a very expensive man is necessary. Mechanical skill is not at all essential. All that is wanted to make a good driver are A sober temperament and an inborn love for machinery. When it comes to obtaining satisfaction from a van or lorry, " its steady as does it." I would rather have driving for me a quiet-man who, asithe saying is, did not know a backfire from a, back axle, but who hated to hear squeaks and groans, than any . fellow who claimed that he could take up a set of bigends in a day.
The small user, particularly if his vehicles are light vans and therefore do not justify two men being ear ried on each, one to drive and the other to attend to the portera.ge, is faced with a difficulty, and the agent from whom he buys hie cars should do his best to help him out. The regular, or professional, motor driver rarely cares about handling goods. He looks on him.self, generally speaking, as engaged to drive only, and if he has to collect and deliver parcels he is disposed to resent that part of his work, although his duties may have been fully explained to him when he accepted the post. Even if he undertakes it cheerfully, he cannot become familiar with the firm's customers for some time, and so, far this and ether reasons there is a decided preference on the part of most small users for utilizing the services of their present employees when they take to motor transport, than for-hiring strangers. If they have to get additional assistants they would rather, is a rule, that the fresh hands were indoor men; who would therefore be under eurveiliance.
The agent can help by offering to eteamine any man sent along by a firm who are beginning motor transport-, and to advise whether there is an liketihoodrof his doing justice to a good vehicle. There are very few agents who are not oom,petent to size up the possibilities of a would-be driver in half an hour or so on the road. And having assisted in'the selection of the man' the agent should be willing to undertake his complete tuition (for a fee, of course) in dreier that he may have inculcated in him the paramount importance of not overloading; of not driving fast when loaded, and of anticipating mechanical troubles by regularly inspecting every part of the chassis. -Service of this kind is service of the best kind, because it really does enable the user to obtain the utmost value from his transport. But it does not commence with ensuring that the driver shall he the right man Its beginning is much earlier, before the first vehicle is purchased. It is then that the agent should do all In his power to correct any impression that his enquirer may have received that a high-grade vehicle cannot be injured by bad handling. The importance of the driver as a factor in the cost of upkeep should be brought as forcibly as possible before every potential user. No great amount of ,observation is necessary, when going about the streets these days, to see that the average commercial vehicle is being over-driven and overloaded. Some of it is attributable to their owners' inexperience ; but most of it is due to the youthfulness. of their drivers. Youth, in itself, is, not a bar to good driving, but it is fond of speed, and needs to be trained to appreciate the fact that it is pace which kills the finest of chassis.