The Late Mr. Charles Challiner.
22nd June 1916
Page 17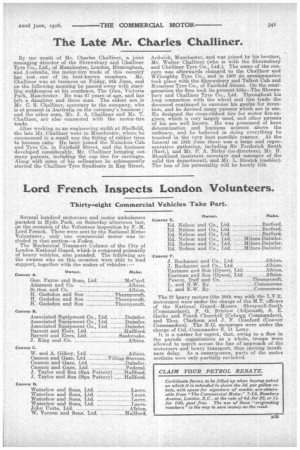 Page 17, 22nd June 1916 —
The Late Mr. Charles Challiner.
Close
By the death of Mr. Charles Challiner, a joint managing director of the Shrewsbury and Challiner Tyre Co., Ltd., of Manchester, London, Birmingham, and Australia, the motor-tire trade of this country has lost one of its best-known members. Mr. Challiner was at business on Friday, 9th June, and on the following morning he passed away with startling suddenness at his residence, The Glen, Victoria Park, Manchester. He was 67 years of age, and has left a daughter and three sons. The eldest son is Mr. C. S. Challiner, secretary to the company, who is at present in Australia on the company's business ; and the other sons, Mr. J. A. Challiner and Mr. T. Challiner, are also connected with the motor-tire trade.
After working as an engineering smith at Sheffield, the late Mr. Challiner went to Manchester, where he commenced in a small way the fitting of rubber tires to hansom cabs. lie later joined the Noiseless Cab and Tyre Co. in Fairfield Street, and the business developed considerably, Mr. Challiner bringing out many patents, including the cup tire for carriages. Along with some of his colleagues he subsequently started the Challiner Tyre Syndicate in Kay Street, Ardwick, Manchester, and was joined by his brother, Mr. Walter Challiner (who is with the, Shrewsbury and Challiner Tyre Co., Ltd.). The name of the concern was afterwards changed to the Challiner and Willoughby Tyre Co., and in 1900 an amalgamation took place with the Shrewsbury and Talbot Cab and Noiseless Tyre Co., of Fairfield Street. On the amalgamation the firm took its present title—The Shrewsbury and Challiner Tyre Co., Ltd. Throughout his long connection with the wheel and tire trade the deceased continued to exercise his genius for invention, and he devised many patents which are in use. He designed the cross-ribbed tire for motor fire-engines, which is very largely used, and other patents of his are well known. He was possessed of keen determination and business acumen above the ordinary, and he believed in doing everything he touched in the very best possible manner. At the funeral on lath June there was a large and representative gathering, including Sir Frederick Smith (Bart.), and Mr. P. A. Birley (co-directors), Ur. H. Shankland (assistant secretary and manager of the solid tire department), and Mr. L. Stretch (cashier). The losa of his personality will be keenly felt.