Foreign drivers need help
22nd August 1996
Page 9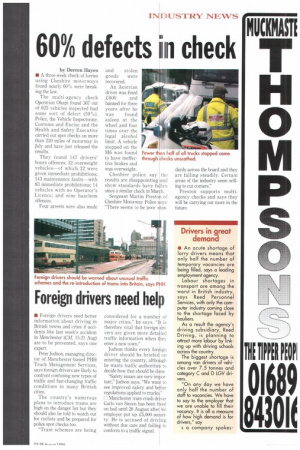 Page 9, 22nd August 1996 —
Foreign drivers need help
Close
• Foreign drivers need better information about driving in British towns and cities if accidents like last week's accident in Manchester (CM, 15-21 Aug) are to be prevented, says one expert.
Peter Judson, managing director of Manchester-based PHH Truck Management Services, says foreign drivers are likely to confront confusing new types of traffic and fast-changing traffic conditions in many British cities.
The country's numerous plans to introduce trams are high on the danger list but they should also be told to watch out for cyclists and be prepared for police spot checks too.
"Tram schemes are being considered for a number major cities," he says. "It therefore vital that foreign drivers are given more detailed traffic information when they enter a new town."
Judson thinks every foreign driver should be briefed on entering the country, although he wants traffic authorities to decide how that should be done.
"Safety issues are very important," Judson says. "We want to see improved safety and better regulations applied to trucks" E, Manchester tram crash driver Carlo van Sinten has been freed on bail until 28 August after his employer put up £5,000 security. He is accused of driving without due care and failing to conform to a traffic signal.