60% defects in check
22nd August 1996
Page 9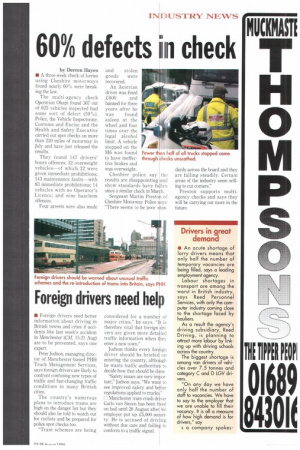 Page 9, 22nd August 1996 —
60% defects in check
Close
by Derren Hayes • A three-week check of lorries using Cheshire motorways found nearly 60% were breaking the law.
The multi-agency check Operation Okapi found 367 out of 623 vehicles inspected had some sort of defect (59%). Police, the Vehicle Inspectorate, Customs and Excise and the Health and Safety Executive carried out spot checks on more than 220 miles of motorway in July and have just released the results.
They found 147 drivers' hours offences; 32 overweight vehicles—of which 22 were given immediate prohibitions; 143 maintenance faults—with 83 immediate prohibitions; 14 vehicles with no Operator's Licence; and nine hazchem offences.
Four arrests were also made and stolen goods were recovered.
An Austrian driver was fined £600 and banned for three years after he was found asleep at the wheel and four times over the legal alcohol limit. A vehicle stopped on the M6 was found to have ineffective brakes and was overweight.
Cheshire police say the results are disappointing and show standards have fanen since a similar check in March.
Sergeant Martin Preston of Cheshire Motorway Police 4ays: "There seems to be poor stan
dards across the board and they are falling steadily. Certain areas of the industry seem willing to cut corners."
Preston supports multiagency checks and says they will be carrying out more in the future.