Drivers are powerless over loads Fair Trials
22nd August 1996
Page 8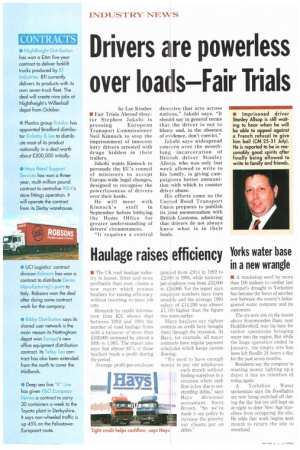 Page 8, 22nd August 1996 —
Drivers are powerless over loads Fair Trials
Close
by Lee Kimber • Fair Trials Abroad director Stephen Jakobi is pressing European Transport Commissioner Neil Kinnock to stop the imprisonment of innocent lorry drivers arrested with drugs hidden in their trailers.
Jakobi wants Kinnock to persuade the EU's council of ministers to accept Europe-wide legal changes, designed to recognise the powerlessness of drivers over their loads.
He will meet with Kinnock's staff in September before lobbying the Home Office for greater understanding of drivers' circumstances.
"It requires a central directive that acts across nations," Jakobi says. "It should say in general terms that the driver is not to blame and, in the absence of evidence, don't convict."
Jakobi says widespread concern over the monthlong incarceration of British driver Stanley Allsop, who was only last week allowed to write to his family, is giving campaigners better ammunition with which to counter driver abuse.
His efforts come as the United Road Transport Union prepares to publish its joint memorandum with British Customs, admitting that drivers do not always know what is in their loads.