Deal threatens tankers
22nd August 1996
Page 7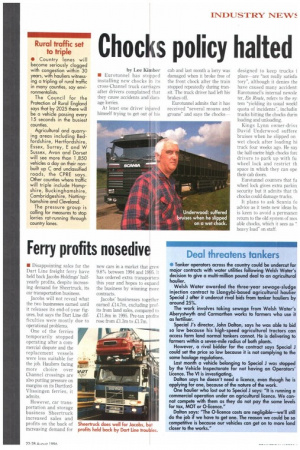 Page 7, 22nd August 1996 —
Deal threatens tankers
Close
• Tanker operators across the country could be undercut for major contracts with water utilities following Welsh Water's decision to give a multi-million pound deal to an agricultural haulier.
Welsh Water awarded the three-year sewage-sludge injection contract to Llangybi-based agricultural haulier Special J after it undercut rival bids from tanker hauliers by around 25%.
The work involves taking sewage from Welsh Water's Aberystwyth and Carmarthen works to farmers who use it as fertiliser.
Special J's director, John Dalton, says he was able to bid so low because his high-speed agricultural tractors can access farm land normal tankers cannot. He is delivering to farmers within a seven-mile radius of both plants.
However, a rival bidder for the contract says Special J could set the price so low because it is not complying to the some haulage regulations.
Last month a vehicle belonging to Special 1 was stopped by the Vehicle Inspectorate for not having an Operators' Licence. The VI is investigating.
Dalton says he doesn't need a licence, even though he is applying for one, because of the nature of the work.
One haulier who lost out to Special 1 says: "It is running a commercial operation under an agricultural licence. We cannot compete with them as they do not pay the same levels for tax, MOT or 0-licence."
Dalton says: "The 0-licence costs are negligible—we'll still do the job if we have to get one. The reason we could be so competitive is because our vehicles can get on to more land closer to the works."