Chocks policy halted
22nd August 1996
Page 7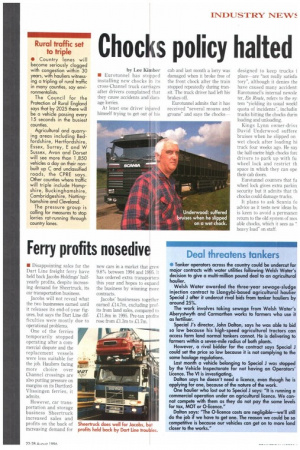 Page 7, 22nd August 1996 —
Chocks policy halted
Close
by Lee Iiimber
• Eurotunnel has stopped installing new chocks in its cross-Channel truck carriages after drivers complained that they cause accidents and damage lorries.
At least one driver injured himself trying to get out of his cab and last month a lorry was damaged when it broke free of the front chock after the train stopped repeatedly during transit. The truck driver had left his brakes off.
Eurotunnel admits that it has received "several moans and groans" and says the chocks
designed to keep trucks i place—are "not really satisfa tory", although it denies the have caused many accident Eurotunnel's internal newsle ter, En Route, refers to the sy tern "yielding its usual weekl quota of incidents". includin trucks hitting the chocks durin loading and unloading.
Kings Lynn owner-drive David Underwood suffere bruises when he slipped on wet chock after loading hi truck four weeks ago. He say the half-metre high chocks forc drivers to park up with fu wheel lock and restrict th space in which they can ope their cab doors.
Eurotunnel counters that fu wheel lock gives extra parkin. security but it admits that th chocks could damage trucks.
It plans to ask Scania fo advice as it tests new ideas bt: is keen to avoid a permanen return to the old system of mo% able chocks, which it sees as " heavy load" on staff.