Staff issue writ 1 1 ,
22nd August 1996
Page 6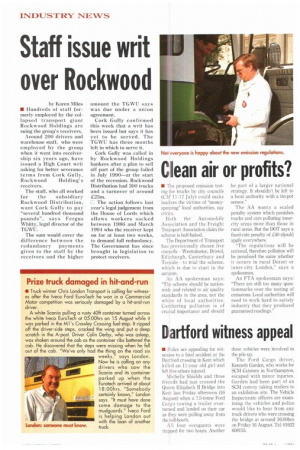 Page 6, 22nd August 1996 —
Staff issue writ 1 1 ,
Close
over Rockwood
by Karen Miles • Hundreds of staff formerly employed by the collapsed transport giant Rockwood Holdings are suing the group's receivers.
Around 200 drivers and warehouse staff, who were employed by the group when it went into receivership six years ago, have issued a High Court writ asking for better severance terms from Cork Gully, Rockwood Holding's receivers.
The staff, who all worked for the subsidiary Rockwood Distribution, want Cork Gully to pay "several hundred thousand pounds", says Fergus Whitty, legal director of the TGWU.
The sum would cover the difference between the redundancy payments given to the staff by the receivers and the higher mnount the TGWU says was due under a union agreement.
Cork Gully confirmed this week that a writ has been issued but says it has yet to be served. The TGWU has three months left in which to serve it.
Cork Gully was called in by Rockwood Holdings bankers after a plan to sell off part of the group failed in July 1990—at the start of the recession. Rockwood Distribution had 300 trucks and a turnover of around £25m.
T The action follows last year's legal judgement from the House of Lords which allows workers sacked between 1986 and March 1994 who the receiver kept on for at least two weeks, to demand full redundancy. The Government has since brought in legislation to protect receivers.