CORPORATE RESPONSIBILITY
22nd August 1996
Page 5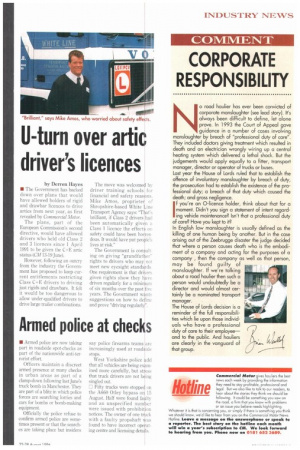 Page 5, 22nd August 1996 —
CORPORATE RESPONSIBILITY
Close
o road haulier has ever been convicted of corporate manslaughter (see lead story). It's always been difficult to define, let alone prove. In 1993 the Court of Appeal gave guidance in a number of cases involving manslaughter by breach of "professional duty of care". They included doctors giving treatment which resulted in death and an electrician wrongly wiring up a central heating system which delivered a lethal shock. But the judgements would apply equally to a fitter, transport manager, director or operator of trucks or buses.
Last year the House of Lords ruled that to establish the offence of involuntary manslaughter by breach of duty, the prosecution had to establish the existence of the professional duty; a breach of that duty which caused the death; and gross negligence.
If you're an 0-licence holder, think about that for a moment. Didn't you sign a statement of intent regarding vehicle maintenance? Isn't that a professional duty of care? Have you kept to it?
In English law manslaughter is usually defined as the killing of one human being by another. But in the case arising out of the Zeebrugge disaster the judge decided that where a person causes death who is the embodiment of a company and acting for the purposes of a company , then the company as well as that person, may be found guilty of manslaughter. If we're talking about a road haulier then such a person would undoubtedly be a director and would almost certainly be a nominated transport manager.
The House of Lords decision is a reminder of the full responsibili ties which lie upon those individ
uals who have a professional duty of care to their employee—
and to the public. And hauliers are clearly in the vanguard of that group.