Armed police at checks
22nd August 1996
Page 5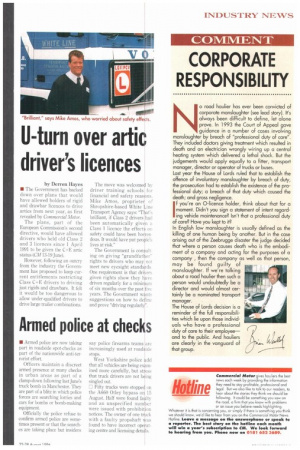 Page 5, 22nd August 1996 —
Armed police at checks
Close
• Armed police are now taking part in roadside spot-checks as part of the nationwide anti-terrorist effort.
Officers maintain a discreet armed presence at many checks in urban areas as part of a clamp-down following last June's truck bomb in Manchester. They are part of a blitz in which police forces are searching lorries and cars for bombs or bomb-making equipment.
Officially the police refuse to confirm armed police are sometimes present or that the searches are taking place but insiders say police firearms teams are increasingly used at roadside stops.
%Vest Yorkshire police add that all vehicles are being examined more carefully, but stitess that truck drivers are not being singled out.
0 Fifty trucks were stopped on the A660 Otley bypass on 15 August. Half were found faulty and an unspecified number were issued with prohibition notices. The owner of one truck with a faulty propshaft was found to have incorrect operating centre and licensing details.