'If no-one gave cowboys any work there would so be no cowboy hauliers'
22nd August 1996
Page 43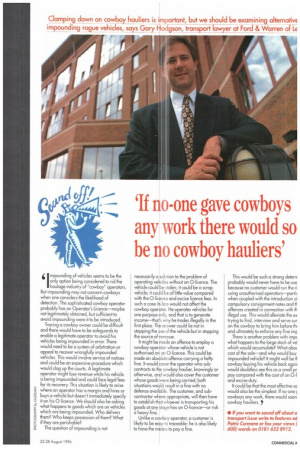 Page 43, 22nd August 1996 —
'If no-one gave cowboys any work there would so be no cowboy hauliers'
Close
6 mpounding of vehicles seems to be the I
only option being considered to rid the haulage industry of "cowboy" operators. But impounding may not concern cowboys when one considers the likelihood of detection. The sophisticated cowboy operator probably has an Operator's Licence—maybe not legitimately obtained, but sufficient to avoid impounding were it to be introduced.
Tracing a cowboy owner could be difficult and there would have to be safeguards to enable a legitimate operator to avoid his vehicles being impounded in error. There would need to be a system of arbitration or appeal to recover wrongfully impounded vehicles. This would involve service of notices and could be an expensive procedure which would clog up the courts. A legitimate operator might lose revenue while his vehicle is being impounded and could face legal fees for its recovery. This situation is likely to arise i where an operator has a margin and hires or buys a vehicle but doesn't immediately specify 3 it on his 0-licence. We should also be asking
-8. what happens to goods which are on vehicles
,..
which are being impounded. Who delivers 8 them? Who keeps possession of them? What if they are perishable?
The question of impounding is not necessarily a solution to the problem of operating vehicles without an 0-licence. The vehicle could be stolen; it could be a scrap vehicle; it could be of little value compared with the 0-licence and excise licence fees. In such a case its loss would not affect the cowboy operator He operates vehicles for one purpose only, and that is to generate income—that's why he trades illegally in the first place. The answer could lie not in stopping the use of the vehicle but in stopping the source of revenue.
It might be made an offence to employ a cowboy operator whose vehicle is not authorised on an 0-licence. This could be made an absolute offence carrying a hefty fine. It would cover the operator who subcontracts to the cowboy haulier, knowingly or otherwise, and would also cover the customer whose goods were being carried; both situations would result in a fine with no defence available. The customer, and subcontractor where appropriate, will then have to establish that whoever is transporting his goods at any stage has an 0-licence—or risk a heavy fine. Unlike a cowboy operator, a customer is likely to be easy to traceable: he is also likely to have the means to pay a fine. This would be such a strong deterrr probably would never have to be use because no customer would run the ri using unauthorised operators—parti( when coupled with the introduction ol compulsory consignment notes and tf offences created in connection with th illegal use. This would alleviate the ex trying to find, interview and serve sur on the cowboy to bring him before thi and ultimately to enforce any fine imp There is another problem with imp( what happens to the large stock of vel which would accumulate? What aboi cost of the sale—and who would buy impounded vehicle? It might well be tl cowboy buying his vehicle back agaii would doubtless see this as a small pr pay compared with the cost of an 0-1 and excise duty.
It could be that the most effective so would also be the simplest. If no-one c cowboys any work, there would soon cowboy hauliers.