SIVIOK SIGNAL
22nd August 1996
Page 40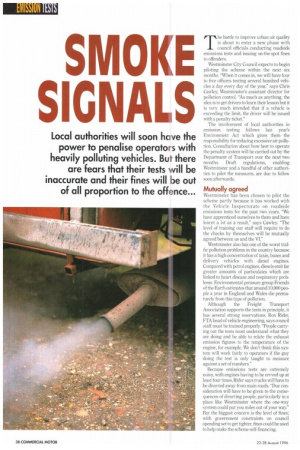 Page 41
Page 40, 22nd August 1996 —
SIVIOK SIGNAL
Close
Local authorities will soon ha ve the power to penalise operators with heavily polluting vehicles. But there are fears that their tests will be inaccurate and their fines will be out of all proportion to the offence...
The battle to improve urban air quality is about to enter a new phase with council officials conducting roadside emissions tests and issuing on-the-spot fines to offenders.
Westminster City Council expects to begin piloting the scheme within the next six months. "When it comes in, we will have four to five officers testing several hundred vehicles a day every day of the year," says Chris Cawley, Westminster's assistant director for pollution control. "As much as anything, the idea is to get drivers to learn their lesson but it is very much intended that if a vehicle is exceeding the limit, the driver will be issued with a penalty ticket."
The involvement of local authorities in omission testing follows last year's Environment Act which gives them the responsibility for reducing excessive air pollution. Consultation about how best to operate the penalty system will be carried out by the Department of Transport over the next two months. Draft regulations, enabling Westminster and a handful of other authorities to pilot the measures, are due to follow soon afterwards.
Mutually agreed
Westminster has been chosen to pilot the scheme partly because it has worked with the Vehicle Inspectorate on roadside emissions tests for the past two years. "We have apprenticed ourselves to them and have learnt a lot as a result," says Cawley. "The level of training our staff will require to do the checks by themselves will be mutually agreed between us and the VI."
Westminster also has one of the worst traffic pollution problems in the country because it has a high concentration of taxis, buses and delivery vehicles with diesel engines. Compared with petrol engines, diesels emit fax greater amounts of particulates which are linked to heart disease and respiratory problems. Environmental pressure group Friends of the Earth estimates that around 10,000 people a year in England and Wales die prematurely from this type of pollution.
Although the Freight Transport Association supports the tests in principle, it has several strong reservations. Ron Rider, FTA head of vehicle engineering, says council staff must be trained properly. "People carrying out the tests must understand what they are doing and be able to relate the exhaust emission figures to the temperature of the engine, for example. We don't think this system will work fairly to operators if the guy doing the test is only taught to measure against a set of numbers."
Because emissions tests are extremely noisy, with engines having to be revved up at least four times, Rider says trucks will have to be diverted away from main roads. "Due consideration will have to be given to the consequences of diverting people, particularly in a place like Westminster where the one-way system could put you miles out of your way." But the biggest concern is the level of fines; with government constraints on council spending set to get tighter, fines could be used to help make the scheme self-financing. Rider believes the costs will be considerable, particularly as police will be needed to stop any vehicles singled out for testing. it is quite clear that to be self-financing, the level of fines would have to be out of all proportion to the actual misdemeanour," he says.
But Westminster's Cawley denies that fines will be excessive: "They will be fixed by the Secretary of State for Transport. The figure talked of at the moment is £100 a time." Ile adds that charges will be administered in the same way as parking tickets, probably with reductions for quick payment or penalties for late payment. If an operator wants to challenge a test result, there will be an appeals procedure which avoids any lengthy and costly legal battle. Refusal to pay the charge will eventually result in a court summons, he adds.
Right balance
Middlesbrough Borough Council on Teesside. which is also seeking to pilot the tests, says offenders will not automatically be issued with fines.
"We would want to get the right balance between education, persuasion and sanctions," says the council's environmental protection manager John Duffield. "You have to take each case as it comes but if you got someone knowingly driving a vehicle giving off pollution, we would give them a fine on the spot."
List year, Middlesbrough carried out research with Middlesex University which showed that 10% of vehicles caused up to
70% of all traffic pollution. This supports the view that more enforcement measures are needed to ensure operators maintain their vehicles properly. The European directive on roadworthiness tests means that emissions levels have to he tested at least once a year in all member state.
In Germany, tests are compulsory every six months and in Belgium every three months. A spokesman for the European Commission department respl insible for transport safety and technology, says the possibility of establishing a framework for roadside checks is now being considered. "We are thinking that maybe we need 1-(. complement annual testing with the roadside testing idea as well. Vehicles can get out of tune within a few months. It would cast too much money to have more regular tests so maybe the way out will he to have the threat of more regular roadside checks."
In the UK, roadside checks carried out by the VI cover general roadworthiness rather than just emissions. The maximum fine a magistrates court can impose for vehicle pollution is 0,500 but a spokeswoman for the VI says fines are rare. "The majority of vehicles we stop are issued with delayed prohibition notices and, provided operators comply with them, there is no reason for us to prosecute." As a result of the new powers being given to local authorities, failure to service vehicles regularly is likely to become a much more costly oversight.
El by Guy Sheppard