Unions fight on for threatened TAOs
22nd August 1996
Page 4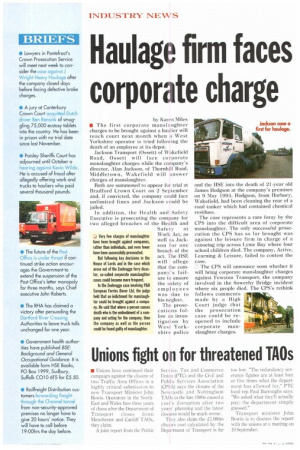 Page 4, 22nd August 1996 —
Unions fight on for threatened TAOs
Close
• Unions have continued their campaign against the closure of two Traffic Area Office's in a highly critical submission to new Transport Minister John Bowis. Operators in the NorthEast and Wales face three years of chaos after the Department of Transport closes down Manchester and Cardiff TA0s, they claim.
A joint report from the Public Service, Tax and Commerce Union (PTC) and the Civil and Public Services Association (CNA) says the closure of the Newcastle and Nottingham TAOs in the late 1980s caused a year's disruption after two years' planning and the latest closures would be much worse.
They also claim the 11.086m closure cost calculated by the Department of Transport is far too low. "The redundancy severance figures are at least four or five times what the department has allowed for," PTC local rep Paul Burroughs says. "We asked what they'll actually pay; the department simply guessed."
Transport minister John Bowis is to discuss the report with the unions at a meeting on 19 September.