BRIEFS
22nd August 1996
Page 4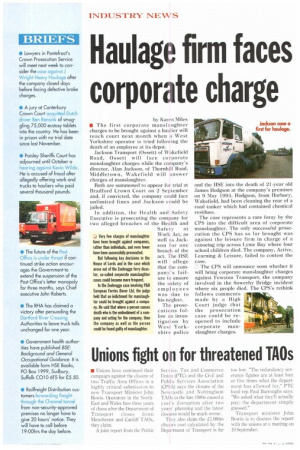 Page 4, 22nd August 1996 —
BRIEFS
Close
• Lawyers in Pontefract's Crown Prosecution Service will meet next week to consider the case against J Wright Heavy Haulage after the company closed days before facing defective broke charges.
• A jury at Canterbury Crown Court acquitted Dutch driver Ben Rensink of smuggling 75,000 ecstasy tablets into the country. He has been in prison with no trial date since last November.
• Paisley Sheriffs Court has adjourned until October a hearing against Kevin Wilde. He is accused of fraud after allegedly offering work and trucks to hauliers who paid several thousand pounds.
• The future of the Post Office is under threat if continued strike action encourages the Government to extend the suspension of the Post Office's letter monopoly for three months, says Chief executive John Roberts.
• The RHA has claimed a victory after persuading the Dartford River Crossing Authorities to leave truck tolls unchanged for one year.
• Government health authorities have published BSE: Background and General Occupational Guidance. It is available form HSE Books, PO Box 1999, Sudbury, Suffolk C010 6FS for £5.50.
• Rai'freight Distribution customers forwarding freight
through the Channr.' I from non-security-approved premises no longer have to give 20 hours' notice. They will have to call before 19:00hrs the day before.