FACTFILE: A DARLINGTON BASED: Heswall, with 2,800m 2 of warehousing. FOUNDED:
22nd August 1996
Page 38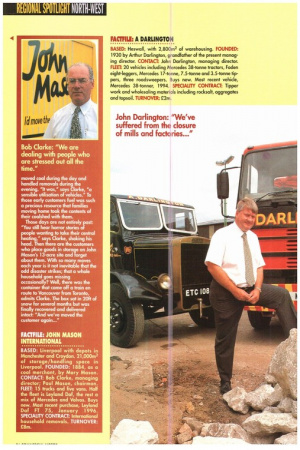 Page 39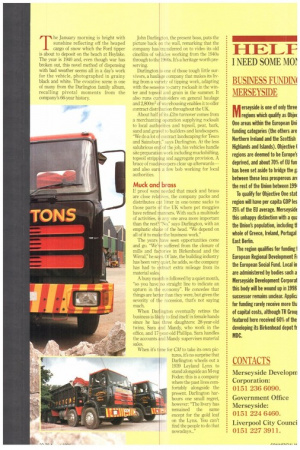 Page 38, 22nd August 1996 —
FACTFILE: A DARLINGTON BASED: Heswall, with 2,800m 2 of warehousing. FOUNDED:
Close
1930 by Arthur Darlington, grandfather of the present managing director. CONTACT: John Darlington, managing director. FLEET: 20 vehicles including Mercedes 38-tonne tractors, Foden eight-leggers, Mercedes 17-tonne, 7.5-tonne and 3.5-tonne tippers, three roadsweepers. 1uys new. Most recent vehicle, Mercedes 38-tonner, 1994. SPECIALITY CONTRACT: Tipper work and wholesaling materi lls including rocksalt, aggregates and topsoil. TURNOVER: £2m The January morning is bright with sunshine reflecting off the heaped cargo of snow which the Ford tipper is about to deposit on the beach at Hoylake. The year is 1940 and, even though war has broken out, this novel method of dispensing with bad weather seems all in a day's work for the vehicle, photographed in grainy black and white. The evocative scene is one of many from the Darlington family album, recalling pivotal moments from the company's 66-year history'.
John Darlingron, the present boss, puts the picture back on the wall, remarking that the company has transferred on to video its old cinefilm of velhicles working from the 1940s through to thki 19Ws. It's a heritage worth pre. serving.
Darlington s one of those tough little survivors, a haul ge company that makes its living from a vafietv of tipping work, adapting with the seas( ns 70 carry rocksalt in the winter and tops( 1 and grain in the summer. It also runs cu insiders on general haulage and 2,800m2 of warehousing enables it to offer contract distril-an ion throughout the UK.
About half of its .E2m turnover comes from a merchantini operation supplying rocksalt to local authcbrities and topsoil, peat, bark, sand and gravel to builders and landscapers. "We do a lot o contract landscaping for Tesco and Sainsbu •." says Darlington. At the less salubrious enti of the job. his vehicles handle site preparati n v, ork including muckshifting topsoil stripp ig and aggregate provision. A brace of road weepers clear up afterwards— and also ear a few bob working for local authorities.
Muck and brass
If proof wer needed that muck and brass are close relIves, the company packs and distributes c t litter in one-tonne sacks to those parts u f the UK where pet moggies have refined nners. With such a multitude of activities, any one area more important than the rest. "No)," says Darlington, with an emphatic sha e of the head. "We depend on all of it to ma e the business work."
The years ave seen opportunities come and go. "We' e suffered from the closure of mills and fa i ones in Birkenhead and the Wirral," he sa s. Of late, the building industry has been ve quiet, he adds, so the company has had to tract extra mileage from its material sale.
A busy mo th is followed by a quiet month, "so you have no straight line to indicate an upturn in th economy". He concedes that things are be er than they were, but given the severity of t i e recession, that's not saying much.
When I. Ington eventually retires the
business is ly to find itself in female hands since he three daughters: 28-year-old twins, Sara nd Mandy, who work in the office, and 17 year-old Phillipa. Sara handles the accounts nd Mandy supervises material sales.
When it's t me for CM to take its own pic tures. it's no surprise that !
: Darlington wheels out a
1939 Leyland Lynx to stand alongside an M-reg Foden: this is a company where the past lives comfortably alongside the present. Darlington harbours one small regret, however: "The livery has remained the same except for the gold leaf on the Lynx. You can't find the people to do that nowadays...