FACTFILE: FALCONGATE BASED: Wallasey, with depots in Aberdeen and Great
22nd August 1996
Page 36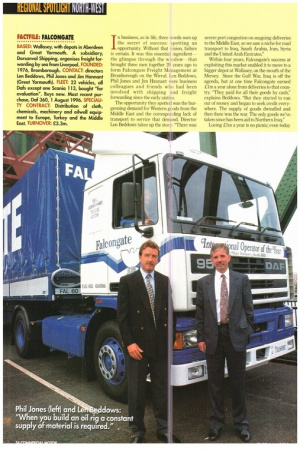 Page 37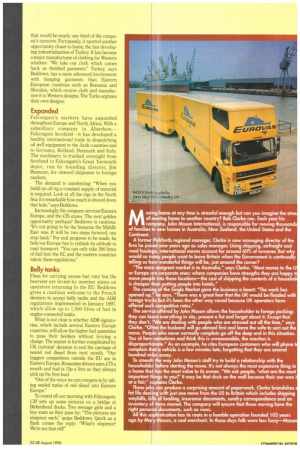 Page 36, 22nd August 1996 —
FACTFILE: FALCONGATE BASED: Wallasey, with depots in Aberdeen and Great
Close
Yarmouth. A subsidiary, Dorsanval Shipping, organises freight forwarding by sea from Liverpool. FOUNDED: 1976, Brom borough. CONTACT: directors Len Beddows, Phil Jones and Jim Hannant (Great Yarmouth). FLEET: 22 vehicles, all Dais except one Scania 113, bought "for evaluation". Buys new. Most recent purchase, Daf 360, 1 August 1996. SPECIALITY CONTRACT: Distribution of cloth, chemicals, machinery and oilwell equipment to Europe, Turkey and the Middle East. TURNOVER: £3.3m. In business, as in life, three words sum up the secret of success: spotting an opportunity. Without that vision, failure is certain. It was this essential ingredient— the glimpse through the window that brought three men together 20 years ago to form Falcongate Freight Management at Bromborough on the Wirral. Len Beddows, Phil Jones and Jim Hannant were business colleagues and friends who had been involved with shipping and freight forwarding since the early sixties.
The opportunity they spotted was the burgeoning demand for Western goods from the Middle East and the corresponding lack of transport to service that demand. Director Len Beddows takes up the story: "There was severe port congestion on seagoing deliveries to the Middle East, so we saw a niche for road transport to Iraq, Saudi Arabia, Iran, Syria and the I Inited Arab Emirates"
Within four years, Falcongate's success at exploiting this market enabled it to move to a bigger depot at Wallasey, on the mouth of the Mersey. Since the Gulf War, Iraq is off the agenda, but at one time Falcongate earned Lim a year alone from deliveries to that country. "They paid for all their goods by cash," explains Beddows. "But they started to run out of money and began to seek credit everywhere. The supply of goods dwindled and then there was the war. The only goods we've taken since has been aid to Northern Iraq."
Losing .Clm a year is no picnic; even today that would be nearly one third of the company's turnover. Fortunately, it spotted another opportunity closer to home; the fast developing industrialisation of Turkey. It has become a major manufacturer of clothing for Western retailers: "We take out cloth which comes back as finished garments." Turkey, says Beddows, has a more advanced involvement with hanging garments than Eastern European countries such as Romania and Slovakia, which receive cloth and manufacture it to Western designs. The Turks orginate their own designs.
Expanded
Falcongate's markets have expanded throughout Europe and North Africa. With a subsidiary company in AberdeenFalcongate Scotland—it has developed a healthy international trade in despatching oil well equipment to the Arab countries and to Germany, Holland, Denmark and Italy. The machinery is trunked overnight from Scotland to Falcongate's Great Yarmouth depot, run by founding director, Jim Hannant, for onward shipment to foreign markets.
The demand is unrelenting: "When you build an oil rig a constant supply of material is required. Look at all the rigs in the North Sea: it's remarkable how much is shoved down that hole," says Beddows.
Increasingly, the company services Eastern Europe, and the CIS states. The next golden opportunity perhaps? Beddows is cautious. "It's not going to be the bonanza the Middle East was. It will be two steps forward, one step back" For real progress to be made, he believes Europe has to rethink its attitude to road transport. "You can only take 200 litres of fuel into the EC and the eastern countries mimic these regulations."
Belly tanks
Fines for carrying excess fuel vary but the heaviest are levied by member states on operators returning to the EU. Beddows gives a cautious welcome to the French decision to accept-belly tanks and the ADR regulations implemented in January 1997, which allow up to 1,500 litres of fuel in engine-connected tanks.
What is not clear is whether ADR signatories, which include several Eastern Europe countries, will allow the higher fuel quantities to pass their borders without levying a charge. The matter is further complicated by UK customs' decision to end the carriage of sealed red diesel from next month. "Our biggest competitors outside the EU are in Eastern Europe. Romanian drivers earn £75 a month and fuel is 15p a litre so they always pick up the first load.
"One of the ways we can compete is by taking sealed tanks of red diesel into Eastern Europe."
To round off our morning with Falcongate, CM sets up some pictures on a bridge at Birkenhead docks. Two teenage girls and a boy stare as they pass by: "The pictures are sixpence each," quips Beddows. Quick as a flash comes the reply: "What's sixpence? We're not that old!"