FACTFILE: JMD HAULAGE BASED: Knowsley. FOUNDED: 1976, Bootle, by John
22nd August 1996
Page 34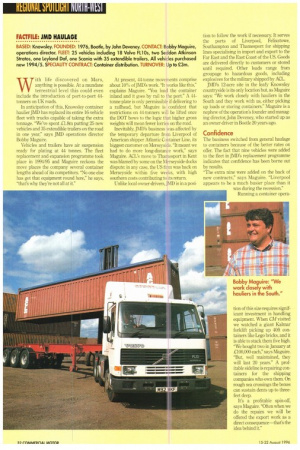 Page 34, 22nd August 1996 —
FACTFILE: JMD HAULAGE BASED: Knowsley. FOUNDED: 1976, Bootle, by John
Close
Deveney. CONTACT: Bobby Maguire, operations director. FLEET: 25 vehicles including 18 Volvo FL10s, two Seddon Atkinson Stratos, one Leyland Daf, one Scania with 35 extendible trailers. All vehicles purchased new 1994/5. SPECIALITY CONTRACT: Container distribution. TURNOVER: Up to Om.
With life discovered on Mars, anything is possible. At a mundane terrestrial level this could even include the introduction of port-to-port 44tonners on UK roads.
In anticipation of this, Knowsley container haulier JMD has replaced its entire 16-vehicle fleet with trucks capable of taking the extra tonnage. "We've spent £1.8m putting 25 new vehicles and 35 extendible trailers on the road in one year," says JMD operations director Bobby Maguire.
Vehicles and trailers have air suspension ready for plating at 44 tonnes. The fleet replacement and expansion programme took place in 1994/95 and Maguire reckons the move places the company several container lengths ahead of its competitors. "No one else has got that equipment round here," he says, "that's why they're not all at it." At present, 44-tonne movements comprise about 10% of J1VID's work. "It works like this," explains Maguire. "You load the container inland and it goes by rail to the port." A 44tonne plate is only permissible if delivering to a railhead, but Maguire is confident that restrictions on 44-tonners will be lifted once the DOT bows to the logic that higher gross weights will mean fewer lorries on the road.
Inevitably, JMD's business was affected by the temporary departure from Liverpool of American shipper Atlantic Col itainer Line, its biggest customer on Merseyside. "It meant we had to do more long-distance work," says Maguire. ACI.'s move to Thamesport in Kent was blamed by some on the Merseyside docks dispute: in any case, the US firm was hack on Merseyside within five weeks, with high southern costs contributing to its return.
Unlike local owner-drivers, JMD is in a posi tion to follow the work if necessary. It serves the ports of Liverpool, Felixstowe, Southampton and Thamesport for shipping lines specialising in import and export to the Far East and the East Coast of the US. Goods are delivered directly to customers or stored until required. Other loads range from groupage to hazardous goods, including explosives for the military shipped by ACL.
,J1V1D's 12-acre site in the leafy Knowsley countryside is its only location but, as Maguire says: "We work closely with hauliers in the South and they work with us, either picking up loads or storing containers." Maguire is a nephew of the operation's founder and managing director, John Deveney, who started up as an owner-driver in Bootle 20 years ago.
Confidence The business switched from general haulage to containers because of the better rates on offer. The fact that nine vehicles were added to the fleet in JIVID's replacement programme indicates that confidence has been borne out by results.
"The extra nine were added on the back of new contracts," says Maguire. "Liverpool appears to be a much busier place than it was during the recession."
Running a container opera
tion of this size requires significant investment in handling equipment. When CM visited we watched a giant Kalmar forklift picking up 40ft containers like Lego bricks, and it is able to stack them five high. "We bought two in January at £100,000 each," says Maguire. "But, well maintained, they will last 20 years." A profitable sideline is repairing containers for the shipping companies who own them. On rough sea crossings the boxes can sustain dents up to threefeet deep.
It's a profitable spin-off, says Maguire. "Often when we do the repairs we will be offered the export work as a direct consequence—that's the idea behind it."