Operator experience
22nd August 1996
Page 31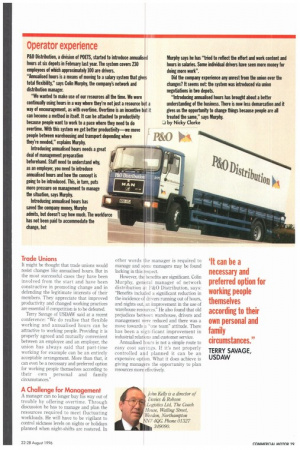 Page 31, 22nd August 1996 —
Operator experience
Close
P&O Distribution, a division of POETS, started to introduce annualis?..i hours at six depots in February last year. The system covers 230 employees of which approximately 100 are drivers.
"Annualised hours is a means of moving to a salary system that givil. total flexibility," says Cohn Murphy, the company's network and distribution manager.
"We wanted to make use of our resources all the time. We were continually using hours in a way where they're not just a resource but a way of encouragement, as with overtime. Overtime is an incentive bre can become a method in itself. It can be attached to productivity because people want to work to a pace where they need to do overtime. With this system we get better productivity—we move people between warehousing and transport depending where they're needed," explains Murphy.
Introducing annualised hours needs a great deal of management preparation beforehand. Staff need to understand why, as an employer, you need to introduce annualised hours and how the concept is going to be introduced. This, in turn, puts more pressure on management to manage the situation, says Murphy.
Introducing annualised hours has saved the company money, Murphy admits, but doesn't say how much. The workforce has not been paid to accommodate the change, but Murphy says he has "tried to reflect the effort and work content and hours in salaries. Some individual drivers have seen more money for doing more work".
Did the company experience any unrest from the union over the changes? It seems not: the system was introduced via union negotiations in two depots.
"Introducing annualised hours has brought about a better understanding of the business. There is now less demarcation and it Oyes us the opportunity to change things because people are all treated the same," says Murphy.
by Nicky Clarke