Answers to loaded questions
22nd August 1996
Page 28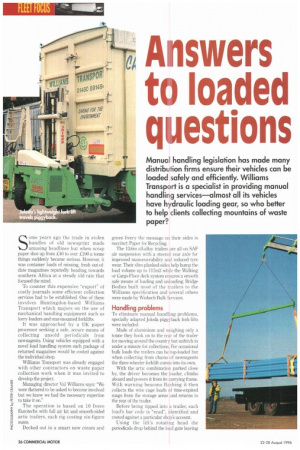 Page 29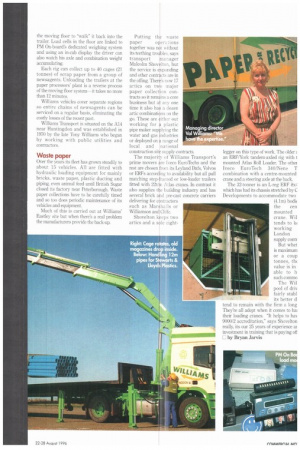 Page 28, 22nd August 1996 —
Answers to loaded questions
Close
Manual handling legislation has made many distribution firms ensure their vehicles can be loaded safely and efficiently. Williams Transport is a specialist in providing manual handling services—almost all its vehicles have hydraulic loading gear, so who better to help clients collecting mountains of waste paper?
Some years ago the trade in stolen bundles of old newsprint made amusing headlines but when scrap paper shot up from .C40 to over .£100 a tonne things suddenly became serious. However, it was container loads of missing, fresh out-ofdate magazines reputedly heading towards southern Africa at a steady old rate that focused the mind.
To counter this expensive "export" of costly journals some efficient collection services had to be established. One of these involves Huntingdon-based Williams Transport which majors on the use of mechanical handling equipment such as lorry loaders and rear-mounted forklifts.
It was approached by a UK paper processor seeking a safe, secure means of collecting unsold periodicals from newsagents. Using vehicles equipped with a novel load handling system each package of returned magazines would be costed against the individual shop.
Williams Transport was already engaged with other contractors on waste paper collection work when it was invited to develop the project.
Managing director Val Williams says: "We were flattered to be asked to become involved but we knew we had the necessary expertise to take it on."
The operation is based on 10 lveco Eurotechs with full air kit and smooth-sided 8 artic trailers, each rig costing six-figure sums.
Decked out in a smart new cream and green livery the message on their sides is succinct: Paper for Recycling The 13.6m all-alloy trailers are all on SAF air suspension with a steered rear axle for improved manoeuvrability and reduced tyre wear. Their slim planked sides help bump the load volume up to 117m3 while the Walking or Cargo Floor deck system ensures a smooth safe means of loading and unloading. Bridge Bodies built most of the trailers to the Williams specification and several others were made by Wished! Bulk Services.
Handling problems
To eliminate manual handling problems, specially adapted Jolotia piggyback fork-lifts were included.
Made of aluminium and weighing only a tonne they hook on to the rear of the trailer for moving around the country but unhitch in under a minute for collections. For occasional bulk loads the trailers can be top-loaded bur when collecting from chains.of newsagents the three-wheeler forklift comes into its own.
With the artic combination parked closy by, the driver becomes the loader, climbs aboard and powers it from its carrying frame. With warning beacons flashing it then collects the wire cage loads of time-expired mags from the storage areas and returns to the rear of the trailer.
Before being tipped into a trailer, each load's bar code is "read", identified and costed against a particular shop's account.
Using the lift's rotating head the periodicals drop behind the load gate leaving the moving floor to "walk" it back into the trailer. Load cells in the floor are linked to PM On-board's dedicated weighing system and using an in-cab display the driver can also watch his axle and combination weight accumulating Each rig can collect up to 40 cages (21 tonnes) of scrap paper from a group of newsagents. Unloading the trailers at the paper processors' plant is a reverse process of the moving floor system—it takes no more than 12 minutes.
Williams vehicles cover separate regions so entire chains of newsagents can be serviced on a regular basis, eliminating the costly losses of the recent past.
Williams Transport is situated on the A14 near Huntingdon and was established in 1970 by the late Tony Williams who began by working with public utilities and contractors.
Waste paper
Over the years its fleet has grown steadily to about 15 vehicles. All are fitted with hydraulic loading equipment for mainly bricks, waste paper, plastic ducting and piping, even animal feed until British Sugar closed its factory near Peterborough. Waste paper collections have to be carefully timed and so too does periodic maintenance of its vehicles and equipment.
Much of this is carried out at Williams' Eastle■"' site but when there's a real problem the manufacturers provide the back-up. Putting the waste
paper op er; t ions together was not ■■ithout its teething troUbles, says transport manager Malcolm Shovelton, but the service is e?,-panding and other contracts are in the offing. There's now 17 artics on two major paper collection contracts so it remains a core business but at any one time it also has a dozen artic combinations the go. These are eitivr out working for r plastic pipe maker supplying the water and gas industries or deployed on a range of local and national
construction site supply contracts.
The majority If Williams Transport's prime movers are lveco EuroTechs and the rest are chosen from its Leyland Dafs, Volvos or ERFs according to availability but all pull matching step-framed or low-loader trailers fitted with 22tim Atlas cranes. In contrast it also supplies the building industry and has several brick and pre-cast concrete carriers delivering for contractors such as Marshals or Williamson and Chile.
Shovelton keeps two artics and a sole eight legger on this type of work. The older ; an ERF/York tandem-axled rig with t mounted Atlas Roll Loader. The other Iveco EuroTech 340/Nene T combination with a centre-mounted crane and a steering axle at the back.
The 32-tonner is an L-reg ERF 8x4 which has had its chassis stretched by C Developments to accommodate two (9.1m) bodi( the cen mounted crane. Wil tends to ki working London supply contr But whet is maximum or a coup tonnes, thi value is in able to h such commo
The Wil pool of driN fairly stabl its better d tend to remain with the firm a long They're all adept when it comes to hai their loading cranes. "It helps to hal, 9000/2 accreditation." says Shovelton really, its our 25 years of experience at investment in training that is paying off L by Bryan Jarvis