Hard graft
22nd August 1996
Page 27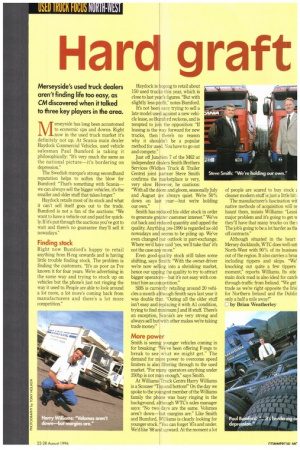 Page 27, 22nd August 1996 —
Hard graft
Close
Merseyside's used truck dealers aren't finding life too easy, as CM discovered when it talked to three key players in the area.
Merseyside has long been accustomed to economic ups and downs. Right now in the used truck market its definitely not up. At Scania main dealer Haydock Commercial Vehicles, used vehicle salesman Paul Bumford is taking it philosophically: "It's very much the same as the national picture—it's bordering on depression."
The Swedish marque's strong secondhand reputation helps to soften the blow for Bumford: "That's something with Scaniawe can always sell the bigger vehicles, it's the smaller and older stuff that takes longer."
Haydock retails most of its stock and what it can't sell itself goes out to the trade. Bumford is not a fan of the auctions: "We want to have a vehicle out and paid for quickly. If it's put through the auctions you've got to wait and there's no guarantee they'll sell it nowadays."
Finding stock
Right now Bumford's happy to retail anything from H-reg onwards and is having little trouble finding stock. The problem is finding the customers. "It's as poor as I've known it for four years. We're advertising in the same way and trying to stock up on vehicles but the phone's just not ringing the way it used to. People are able to look around a lot more, a lot more's coming back from manufacturers and there's a lot more competition." Haydock is hoping to retail about 150 used trucks this year, which is close to last year's figures. "But with slightly less profit," notes Bumford.
It's not been easy trying to sell a late model used against a new vehicle lease, so Bumf( .rd reckons, and is tempted to join the opposition: "If leasing is the way forward for new trucks, then there's no reason why it shouldn't be a popular method for used. You have to go out and compete."
Just off Junction 7 of the M62 at independent dealers Smith Brothers Services (Widnes Truck & Trailer Centre) joint partner Steve Smith confirms the marketplace is very, very slow. However, he cautions: "With all the doom and gloom, seasonally July and August are always quiet. We're 50% down on last year—but we're holding our own."
Smith has reduced his older stock in order to generate greater customer interest." We've cut back and reduced quantity and upped the quality. Anything pre-1990 is regarded as old nowadays and seems to be piling up. We've even changed our outlook in part-exchange. Where we'd have said 'yes, we'll take that' it's not the case any m)re."
Even good-quality stock still takes some shifting, says Smith: "With the owner-driver we're now selling into a shrinking market, hence our upping he quality to try to attract bigger operators– -but it's not easy with contract hire as competition."
SBS is currently retailing around 20 vehicles a month although Smith says last year it was double that. "Outing all the older stuff isn't easy and replacing it with Al condition, trying to find minimum J and H stuff. There's an exception, Scania's are very strong and always sell but with other makes we're taking trade money."
More power
Smith is seeing younger vehicles coming in for breaking: "We've been offering F-regs to break to see what we might get." The demand for more power to overcome speed limiters is also filtering through to the used market. "For many operators anything under 350hp is not man enough," says Smith.
At Williams Truck Centre Harry Williams is a Scouser "Top and bottom!" On the day we spoke to the youngest member of the Williams family the phone was busy ringing in the background, although WTC's sales manager says: "No two days are the same. Volumes aren't down—but margins are." Like Smith and Bumford, Williams is clearly looking for younger stock. "You can forget '87s and under. We'd like '88 and upward. At the moment a lot
of people are scared to buy stock 2 cleaner modern stuff is just a little bit!
The manufacturer's fascination wit native methods of acquisition will re haunt them, insists Williams: "Leasi major problem and it's going to get w they'll have that many trucks on the 1 The job's going to be a lot harder as tilt off contracts."
Although situated in the heart Mersey docklands, WTC does well out North-West with 90% of its busines out of the region. It also carries a broa including tippers and skips. "We' knocking out quite a few tippers moment," reports Williams. Its site main dock road is also ideal for catch through-traffic from Ireland. "We get trade as we're right opposite the Iris' for Northern Ireland and the Dublir only a half a mile away!"
C by Brian Weatherley