Past records
22nd August 1996
Page 26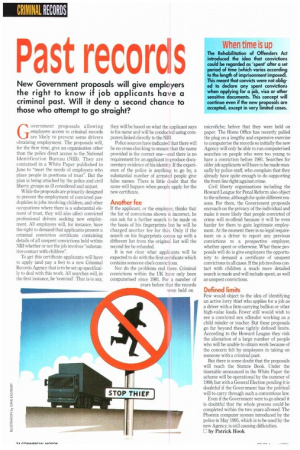 Page 26, 22nd August 1996 —
Past records
Close
Keywords :
Public Records
,
Employment
,
Criminal Law
,
Criminal Record
,
Rehabilitation Of Offenders Act
,
Job Hunting
,
Recruitment
,
Background Check
,
Police Certificate
,
Labor
,
Law / Crime
New Government proposals will give employers the right to know if job applicants have a criminal past. Will it deny a second chance to those who attempt to go straight?
Government proposals allowing employers access to criminal records are likely to prevent some drivers obtaining employment. The proposals will, for the first time, give an organisation other than the police direct access to the National Identification Bureau (NIB). They are contained in a White Paper published in June to "meet the needs of employers who place people in positions of trust". But the plan is being attacked by the police and civil liberty groups as ill considered and unjust.
While the proposals are primarily designed to prevent the employment of convicted paedophiles in jobs involving children, and other occupations where there is a substantial element of trust, they will also affect convicted professional drivers seeking new employment. All employers will, for instance, have the right to demand that applicants present a criminal conviction certificate containing details of all unspent convictions held within NIB whether or not the job involves "substantive contact with children".
To get this certificate applicants will have to apply (and pay a fee) to a new Criminal Records Agency that is to be set up specifically to deal with this work. All searches will, in the first instance, be 'nominal', That is to say, they will be based on what the applicant says is his name and will be conducted using computers linked directly to the NIB.
Police sources have indicated that there will be no cross-checking to ensure that the name provided is the correct one—and there is no requirement for an applicant to produce documentary evidence of his identity. If the experience of the police is anything to go by, a substantial number of arrested people give false names. There is little doubt that the same will happen when people apply for the new certificate.
Another fee
If the applicant, or the employer, thinks that the list of convictions shown is incorrect, he can ask for a further search to be made on the basis of his fingerprints but he will be charged another fee for this. Only if the search on his fingerprints comes up with a different list from the original list will the second fee be refunded.
It is not clear what applicants will be expected to do with the first certificate which contains someone else's convictions.
Nor do the problems end there. Criminal convictions within the UK have only been computerised since 1981. For a number of years before that the records were held on microfiche; before that they were held on paper. The Home Office has recently pulled the plug on a lengthy and expensive exercise to computerise the records so initially the new Agency will only be able to run computerised searches on people who were too young to have a conviction before 1981. Searches for older job applicants will have to be made manually by police staff, who complain that they already have quite enough to do supporting the front-line fight against crime.
Civil liberty organisations including the Howard League for Penal Reform also object to the scheme, although for quite different reasons. For them, the Government proposals encroach on the privacy of the individual and make it more likely that people convicted of crime will re-offend because it will be even harder for them to gain legitimate employment. At the moment there is no legal requirement on a driver to report any previous convictions to a prospective employer, whether spent or otherwise. What these proposals will do is give employers the opportunity to demand a certificate of unspent convictions in all cases. If the job involves contact with children a much more detailed search is made and will include spent, as well as unspent convictions.
Defined limits
Few would object to the idea of identifying an active lorry thief who applies for a job as a driver with a firm carrying bullion or other high-value loads. Fewer still would wish to see a convicted sex offender working as a child minder or teacher. But these proposals go far beyond these tightly defined limits. According to the Howard League they risk the alienation of a large number of people who will be unable to obtain work because of the concern felt by employers in taking on someone with a criminal past.
But there is some doubt that the proposals will reach the Statute Book. Under the timetable announced in the White Paper the scheme will be operational by the summer of 1998, but with a General Election pending it is doubtful if the Government has the political will to carry through such a contentious law.
Even if the Government were to go ahead it is doubtful that the whole process could be completed within the two years allowed. The Phoenix computer system introduced by the police in May 1995, which is to be used by the new Agency, is still causing difficulties.
0 by Patrick Hook