DRIVERS' VERDICTS
22nd August 1996
Page 24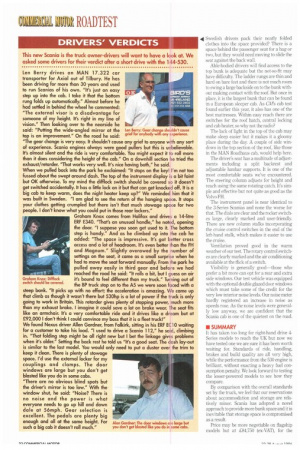 Page 24, 22nd August 1996 —
DRIVERS' VERDICTS
Close
This new Scania is the truck owner-drivers will want to have a look at. We asked some drivers for their verdict after a short drive with the 144-530.
Len Berry drives an MAN 17.322 car transporter for Axial out of Tilbury. He has been driving for more than 30 years and used to run Scanias of his own. "It's just an easy step up into the cab. I take it that the bottom rung folds up automatically." Almost before he r had settled in behind the wheel he commented: "The external visor is a disadvantage for someone of my height. It's right in my line of vision." Then looking over to the nearside he said: "Putting the wide-angled mirror at the Len Berry: Gear change shouldn't.cause OROS ■ 111teS1 SeRletef 1(-IRELAND ;.7.1211 552 2402
544 41:1213
rief
top is an improvement." On the road he said: g For anybody with any .penence.
"The gear change is very easy. It shouldn't cause any grief to anyone with any sort of experience. Scania engines always were good pullers but this is unbelievable. It's almost silent and the ride is very comfortable. You might expect it to roll more than it does considering the height of the cab." On a downhill section he tried the exhaust/retarder. "That works very well. It's nice having both," he said.
When we pulled back into the park he exclaimed: "It stops on the key! I'm not too fussed about the swept around dash. The top of the instrument display k a bit faint but OK otherwise. To my mind the difflock switch should be covered so it doesn't get switched accidentally. It has a little lock on it but that can get knocked off. It is a big cob to keep warm, does the night heater keep up?" We reminded him that it was built in Sweden. "I am glad to see the return of the hanging space. it stops your clothes getting crumpled but there isn't that much stowage space for two people. I don't know what you could put in those rear lockers."
Graham Knox comes from Halifax and drive.: a 14-litre ERF E340. "That's an unusual handle," he noted, opening the door. "I suppose you soon get used to it. The bottom step is handy." And as he climbed up into the cab he added: "The space is impressive. It's got better cross access and a lot of headroom. It's even better than the FH and Magnum." Slightly overawed by the number of settings on the seat, it came as a small surprise when he had to move the seat forward manually. From the park he pulled away easily in third gear and befo-e we had reached the road he said: "It rolls a bit, but I sueSS on air it's bound to feel different than my truck." Turning out of the BP truck stop on to the A5 we were soon faced with a steep bank. "It picks up with no effort; the acceleration is amazing. We came up that climb as though it wasn't there but 530hp is a lot of power if the truck is only going to work in Britain. This retarder gives plenty of stopping power, much more than my exhaust brake. I imagine it could save a lot on brake wear. The seat fits like an armchair. It's a very comfortable ride and it drives like a dream but at £92,000 I don't think I could convince my boss that it is a fleet truck!"
We found Nexus driver Allen Gardner, from Falkirk, sitting in his ERF ECK, waiting for a customer to take his load. "I used to drive a Scania 112," he said, climbing in. "That folding step might be all right new but I bet the linkage gives problems when it's older." Setting the back rest he told us "It's a good seat. The dash lay-out is similar to the last model. You would only need to put a duster over the trim to keep it clean. There is plenty of stowage space. I'd use the external locker for my couplings and clamps. The door windows are large but you don't get blasted like you do in some cabs.
Graham Knox; DiMock with should be covered.
"There are no obvious blind spots but the driver's mirror is too low." With the window shut, he said: "Noise? There is no noise and the power is what everyone needs to go up hill and down dale at 56mph. Gear selection is excellent. The pedals are plenty big enough and all at the same height. For such a big cab it doesn't roll much."