Lords of the dance
22nd August 1996
Page 19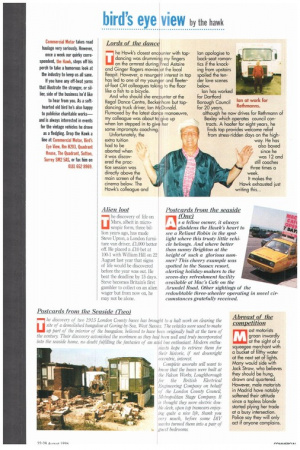 Page 19, 22nd August 1996 —
Lords of the dance
Close
ahe Hawk's closest encoun[er with tapdancing was drumming my fingers on the armrest during Fred Astaire and Ginger Rogers movies,at the local fleapit. However, a resurgent interest in tap has led to one of my younger and fleeterof-foot CM colleagues taking to the floor like a fish to a bicycle. And who should she encounter at the Regal Dance Centre, Beckenham but tapdancing truck driver, kin McDonald. Flumoxed by the latest dance manoeuvre, my colleague was about to give up when Ian stepped in to give her some impromptu coaching.
Unfortunately, the extra tuition had to be aborted when it was discovered the practice session was directly above the main screen of the cinema below. The Hawk's colleague and Ian apologise to back-seat romantics if the knocking from upstairs spoiled the tender love scenes below.
Ian has worked for Dartford Borough Council for 20 years, although he now drives for Rethmann of Bexley which operates council con
tracts. A hoofer for eight years, he finds tap provides welcome relief from stress-ridden days on the high Ian at work for Rethmanns.
way. He has also boxed since he was 12 and still coaches three times a week.
It makes the Hawk exhausted just writing this...