Firm 'agrees with locals'
22nd August 1996
Page 10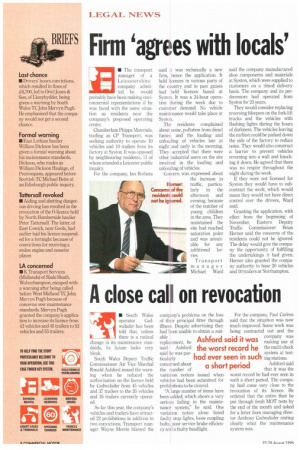 Page 10, 22nd August 1996 —
Firm 'agrees with locals'
Close
• The transport manager of a Leicestershire company admitted he would probably have been making environmental representations if he was faced with the same situation as residents near the company's proposed operating centre.
Chamberlain Phipps Materials, trading as CP Transport, was seeking authority to operate 10 vehicles and 10 trailers from its factory at Syston. It was opposed by neighbouring residents, 11 of whom attended a Leicester public inquiry.
For the company, Ian Rothera said it was technically a new firm, hence the application. It held licences in various parts of the country and in past guises had held licences based at Syston. It was a 24-hour operation during the week due to customer demand. No vehicle maintenance would take place at Syston.
The residents complained about noise, pollution from diesel fumes, and the loading and unloading of vehicles late at night and early in the morning. They accepted that there were .other industrial users on the site involved in the loading and unloading of vehicles.
Concern was expressed about the increase in traffic, particu larly in the afternoon and evening, because of the number of young children in the area. They maintained the site had reached saturation point and was unsuitable for any additional lorries.
Transport manager Michael Ward said the company manufactured shoe components and materials at Syston, which were supplied to customers on a timed delivery basis, The company and its predecessors had operated from Syston for 23 years.
They would consider replacing reversing bleepers on the fork-lift trucks and the vehicles with flashing lights during the hours of darkness. The vehicles leaving the earliest could be parked down the side of the factory to reduce noise. They would also construct a barrier to prevent vehicles reversing into a wall and knocking it down. He agreed that there was no respite throughout the night during the week.
If they were not licensed for Syston they would have to subcontract the work, which would mean they would not have direct control over the drivers, Ward said.
Granting the application, with effect from the beginning of November, Eastern Deputy Traffic Commissioner Brian Horner said the concerns of the residents could not be ignored The delay would give the company the opportunity of fulfilling the undertakings it had given. Horner also granted the company authority to base 20 vehicles and 10 trailers at Northampton.