Farm tacho ruling
20th April 1985
Page 8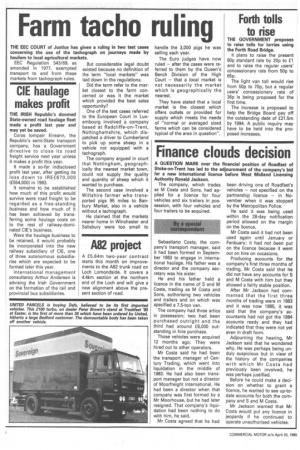 Page 8, 20th April 1985 —
Farm tacho ruling
Close
THE EEC COURT of Justice has given a ruling in two test cases concerning the use of the tachograph on journeys made by hauliers to local agricultural markets.
EEC Regulation 543/69, as amended in 1977, exempted transport to and from these markets from tachograph rules. But considerable legal doubt existed because no definition of the term "local markets" was laid down in the regulations.
Did the term refer to the market closest to the farm concerned or was it the market which provided the best sales opportunity?
One of the test cases referred to the European Court in Luxembourg involved a company based at Radcliffe-on-Trent, Nottinghamshire, which dispatched a driver to Cumberland to pick up some sheep in a vehicle not equipped with a tachograph.
The company argued in court that Nottingham, geographically the nearest market town, could not supply the quality and quantity of sheep which it wanted to purchase.
The second case involved a Wiltshire farmer who transported pigs 95 miles to Banbury Market, also in a vehicle without a tachograph.
He claimed that the markets nearer home in Winchester and Salisbury were too small to handle the 3,000 pigs he was selling each year.
The Euro judges have now ruled — after the cases were referred to them by the Queen's Bench Division of the High Court — that a local market is not necessarily the market which is geographically the nearest.
They have stated that a local market is the closest which offers outlets or provided for supply which meets the needs of "normal or averaged sized farms which can be considered typical of the area in question".