Tippermen want grouping
20th April 1985
Page 7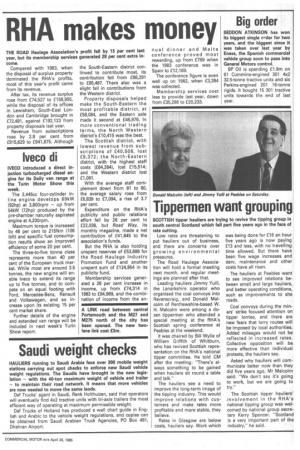 Page 7, 20th April 1985 —
Tippermen want grouping
Close
SCOTTISH tipper hauliers are trying to revive the tipping group in south central Scotland which fell part five years ago in the face of rate cutting.
Low rates are threatening to put hauliers out of business, and there are concerns over growing environmental pressures.
The Road Haulage Association will hold a formal meeting next month, and regular meetings are planned after that.
Leading hauliers Jimmy Yuill, the Lanarkshire operator who organised the coal convoys into Ravenscraig, and Donald Malcolm of Renfrewshire-based W. H. Malcolm were among a dozen tippermen who attended a special meeting at the RHA's Scottish spring conference at Peebles at the weekend.
It was chaired by Bill Wylie of William Griffith of Whitburn, who has revived Scottish representation on the RHA's national tipper committee. He told CM after the meeting: "There's always something to be gained when hauliers sit round a table and talk."
The hauliers see a need to improve the long-term image of the tipping industry. This would improve relations with customers and make rates more profitable and more stable, they believe.
Rates in Glasgow are below costs, hauliers say. Work which was being done for £16 an hour five years ago is now paying £13 and less, with no travelling time allowed. But there have been five wage increases and derv, maintenance and other costs have all risen.
The hauliers at Peebles want to see improved relations between small and large hauliers, and better operating conditions, such as improvements to site roads.
Coal convoys during the miners' strike focused attention on tipper lorries, and there are new fears that lorry routes will be imposed by local authorities. Added mileages would not be reflected in increased rates. Collective opposition will be more effective than individual protests, the hauliers say.
Asked why hauliers will communicate better no* than they did five years ago, Mr Malcolm said: "We don't say it's going to work, but we are going to try."
The Scottish tipper hauliers' involvement in the RHA's national tipping group was welcomed by national group secretary Kerry Spencer. "Scotland is a very important part of the industry," he said.