RHA makes mone
20th April 1985
Page 7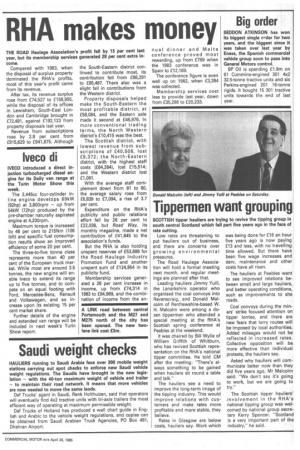 Page 7, 20th April 1985 —
RHA makes mone
Close
THE ROAD Haulage Association's year, but its membership services come.
Compared with 1983, when the disposal of surplus property dominated the RHA's profits, most of this year's profit came from its revenue.
After tax, its revenue surplus rose from £74,527 to £158,955, while the disposal of its offices in Lewisham, South-East London and Cambridge brought in £72,491, against £192,123 from property disposals last year.
Revenue from subscriptions rose by 2.9 per cent from £915,629 to £941,875. Although profit fell by 13 per cent last generated 28 per cent extra in the South-Eastern district continued to contribute most, its contribution fell from £86,291 to £85,487. There also was a slight fall in contributions from the Western district.
Property disposals helped make the South-Eastern the most profitable district, at £58,084, and the Eastern sale made it second at £46,976. In more conventional trading terms, the North Western district's £10,415 was the best.
The Scottish district, with lowest revenue from subscriptions of £40,506, lost £9,372; the North-Eastern district, with the highest staff costs (£64,264), lost £15,514; and the Western district lost £1,091.
With the average staff complement down from 81 to 80, the average salary rose from £6,839 to E7,094, a rise of 3.7 per cent.
Expenditure on the RHA's publicity and public relations effort fell by 28 per cent to £22,038, but Road Way, its monthly magazine, made a net contribution of £41,845 to the association's funds.
But the RHA is also holding unspent reserves of £53,888 for the Road Haulage Industry Promotion Fund and another unspent sum of £124,954 in its publicity fund.
Membership services generated a 28 per cent increase in income, up from £74,314 in 1983 to £94,989, and the combination of income from the an nual dinner and Malta conference proved most rewarding, up from £769 when the 1983 conference was in Spain to £12,169.
The conference figure is even well up on 1982, when £3,284 was collected.
Membership services cost less to provide last year, down from £35,286 to £20,233.