TGWU looks at claims
20th April 1985
Page 6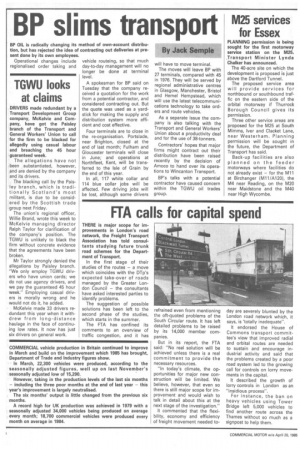 Page 6, 20th April 1985 —
TGWU looks at claims
Close
DRIVERS made redundant by a Transport Development Group company, McKelvie and Company, have got the Paisley branch of the Transport and General Workers' Union to call for the firm to be blacked for allegedly using casual labour and breaching the 45 hour guaranteed week.
The allegations have not been substantiated, however, and are denied by the company and its drivers.
The blacking call by the Paisley branch, which is traditionally Scotland's most militant, is due to be considered by the Scottish trade group next Friday.
The union's regional officer, Willie Brand, wrote this week to McKelvie managing director Ralph Taylor for clarification of the company's position. The TGWU is unlikely to black the firm without concrete evidence that the agreements have been broken.
Mr Taylor strongly denied the allegations by Paisley branch. "We only employ TGWU drivers who have union cards; we do not use agency drivers, and we pay the guaranteed 45 hour week." Employing casual drivers is morally wrong and he would not do it, he added.
McKelvie made 33 drivers redundant this year when it withdrew from long-distance haulage in the face of continuing low rates. It now has just six drivers on general work.