FTA calls for capital spend
20th April 1985
Page 6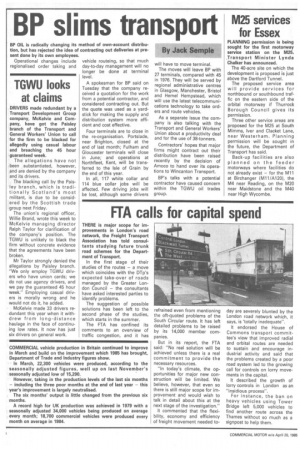 Page 6, 20th April 1985 —
FTA calls for capital spend
Close
THERE is major scope for improvements in London's road network, the Freight Transport Association has told consultants studying future trunk road schemes for the Department of Transport.
In the first stage of their studies of the routes — a move which coincides with the DTp's expected take-over of roads managed by the Greater London Council — the consultants have asked interested parties to identify problems.
The suggestion of possible solutions has been left to the second phase of the studies, which starts in the summer.
The FTA has confined its comments to an overview of traffic congestion, and it has refrained even from mentioning the oft-quoted problems of the South Circular route. It has left detailed problems to be raised by its 14,000 member companies.
But in its report, the FTA said: "No real solution will be achieved unless there is a real commitment to provide the necessary resources.
"In today's climate, the opportunities for major new construction will be limited. We believe, however, that even so there is still major scope for improvement and would wish to talk in detail about this at the next stage of the investigation."
It commented that the flexibility, economy and efficiency of freight movement needed to day are severely blunted by the London road network which, it says, is 'totally inadequate".
It endorsed the House of Commons transport committee's view that improved radial and orbital routes are needed to sustain and encourage industrial activity and said that the problems created by a poor road system led to the growing call for controls on lorry movements in the capital.
It described the growth of lorry controls in London as an "insidious process".
For instance, the ban on heavy vehicles using Tower Bridge left 5,000 vehicles to find another route across the Thames without so much as a signpost to help them.