Shop window for smaller firms • •
20th April 1985
Page 52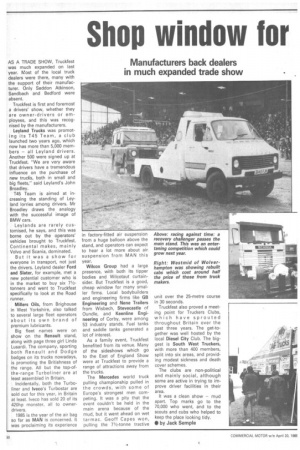 Page 53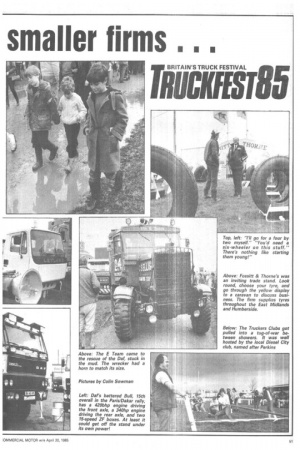 Page 52, 20th April 1985 —
Shop window for smaller firms • •
Close
TBRITAIN'S TRUCK FESTIVAL 85
Manufacturers back dealers in much expanded trade show
AS A TRADE SHOW, Truckfest was much expanded on last year. Most of the local truck dealers were there, many with the support of their manufacturer. Only Seddon Atkinson, Sandbach and Bedford were absent.
Truckfest is first and foremost a drivers' show, whether they are owner-drivers or employees, and this was recognised by the manufacturers.
Leyland Trucks was promoting its 145 Team, a club launched two years ago, which now has more than 5,000 members — all Leyland drivers. Another 500 were signed up at Truckfest. "We are very aware that drivers have a tremendous influence on the purchase of new trucks, both in small and big fleets," said Leyland's John Broadley.
T45 Team is aimed at increasing the standing of Leyland lorries among drivers. Mr Broadley draws the analogy with the successful image of BMW cars.
Leylands are rarely customised, he says, and this was borne out by the operators' vehicles brought to Truckfest. Continental makes, mainly Volvo and Scania, dominated.
But it was a show for everyone in transport, not just the drivers. Leyland dealer Ford and Slater, for example, met a new potential customer who is in the market to buy six 71/2tonners and went to Truckfest specifically to look at the Road runner.
Millers Oils, from Brighouse in West Yorkshire, also talked to several large fleet operators about its own brand of premium lubricants.
Big fleet names were on show on the Renault stand, along with page three girl Linda Lusardi. The company, sporting both Renault and Dodge badges on its trucks nowadays, is promoting the Britishness of the range. All but the top-ofthe-range Turboliner are at least assembled in Britain.
Incidentally, both the Turboliner and lyeco's Turbostar are sold out for this year, in Britain at least. lveco has sold 20 of its 420hp monster, all to ownerdrivers.
1985 is the year of the air bag so far as MAN is concerned. It was proclaiming its experience
in factory-fitted air suspension from a huge balloon above the stand, and operators can expect to hear a lot more about air. suspension from MAN this year.
Wilcox Group had a large presence, with both its tipper bodies and Wilcotaut curtainsider. But Truckfest is a good, cheap window for many smaller firms. Local bodybuilders and engineering firms like GB Engineering and Nene Trailers from Wisbech, Steyecastle of Oundle, and Keenline Engineering of Corby, were among 53 industry stands. Fuel tanks and saddle tanks generated a lot of interest.
As a family event, Truckfest benefited from its venue. Many of the sideshows which go to the East of England Show were at Truckfest to provide a range of attractions away from the trucks.
The Mercedes world truck pulling championship pulled in the crowds, with some of Europe's strongest men competing. It was a pity that the event couldn't be held in the main arena because of the mud, but it went ahead on wet tarmac. Geoff Capes won, pulling the 71/2-tonne tractive
unit over the 25-metre course in 30 seconds.
Truckfest also proved a meeting point for Truckers Clubs, which have sprouted throughout Britain over the past three years. The get-together was well hosted by the local Diesel City Club. The biggest is South West Truckers, with more than 400 members, split into six areas, and providing modest sickness and death cover schemes.
The clubs are non-political and mainly social, although some are active in trying to improve driver facilities in their area.
It was a clean show — mud apart. Top marks go to the 70,000 who went, and to the scouts and cubs who helped to keep the place looking tidy.
• by Jack Semple