TNT plans big expansion
20th April 1985
Page 5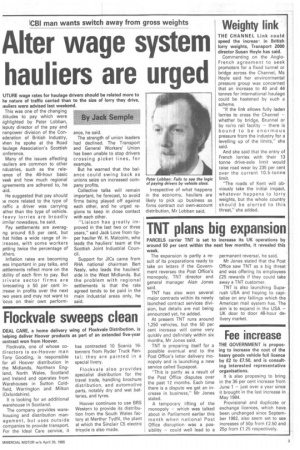 Page 5, 20th April 1985 —
TNT plans big expansion
Close
PARCELS carrier TNT is set to increase its UK operations by around 50 per cent within the next few months, it revealed this week.
The expansion is partly a result of its preparations ready to take on letters if the Government reverses the Post Office's monopoly, TNT director and general manager Alan Jones said.
TNT has also won several major contracts within its newly launched contract services division, but details are not being announced yet, he added.
At present TNT runs around 1,250 vehicles, but the 50 per cent increase will come very quickly and definitely within six months, Mr Jones said.
TNT is preparing itself for a possible eventual end to the Post Office's letter delivery monopoly and is launching a new service called Supapost.
"This is partly as a result of the Post Office disputes over the past '12 months. Each time there is a dispute we get an increase in business," Mr Jones stated.
A temporary lifting of the monopoly — which was talked about in Parliament earlier this month when national Post Office disruption was a possibility — could well lead to a permanent reversal, he said.
Mr Jones stated that the Post Office saw TNT as a big threat and was offering its employees £25 rewards if they could take away a TNT customer.
TNT is also launching Suparush USA and hoping to capitalise on any failings which the American mail system has. The aim is to expand in the USA — UK door to door 48-hour delivery market.