Swedes dominate at Truckles!
20th April 1985
Page 48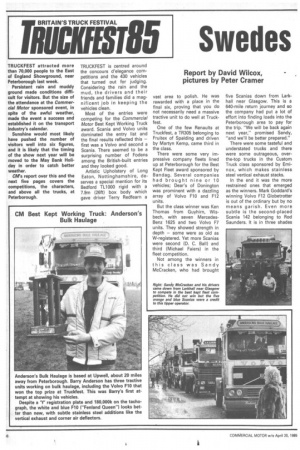 Page 49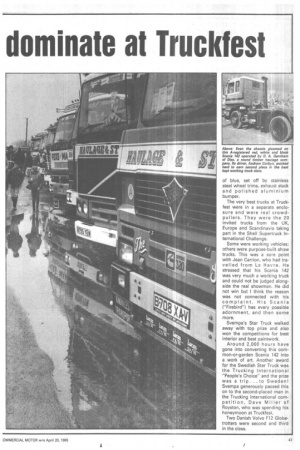 Page 48, 20th April 1985 —
Swedes dominate at Truckles!
Close
Report by David Wilcox, pictures by Peter Cramer
TRUCKFEST attracted more than 70,000 people to the East of England Showground, near Peterborough last week.
Persistent rain and muddy ground made conditions difficult for visitors. But the size of the attendance at the Commercial Motor sponsored event, in spite of the awful weather, made the event a success and established it on the transport industry's calendar.
Sunshine would most likely have pushed the number of visitors well into six figures, and it is likely that the timing of the show next year will be moved to the May Bank Holiday in order to catch better weather.
CM's report over this and the next five pages covers the competitions, the characters, and above all the trucks, at Peterborough. TRUCKFEST is centred around the concours d'elegance competitions and the 430 vehicles that turned out for judging. Considering the rain and the mud, the drivers and their friends and families did a magnificent job in keeping the vehicles clean.
Most of the entries were competing for the Commercial Motor Best Kept Working Truck award. Scania and Volvo units dominated the entry list and the final results reflected this — first was a Volvo and second a Scania. There seemed to be a surprising number of Fodens among the British-built entries and they looked good.
Artistic Upholstery of Long Eaton, Nottinghamshire, deserves a special mention for its Bedford TL1000 rigid with a 7.9m (26ft) box body which gave driver Terry Redfearn a vast area to polish. He was rewarded with a place in the final six, proving that you do not necessarily need a massive tractive unit to do well at Truckfest.
One of the few Renaults at Truckfest, a TR305 belonging to Fruitex of Spalding and driven by Martyn Kemp, came third in the class.
There were some very impressive company fleets lined up at Peterborough for the Best Kept Fleet award sponsored by Bandag. Several companies had brought nine or 10 vehicles; Dear's of Donington was prominent with a dazzling array of Volvo F10 and F12 units.
But the class winner was Ken Thomasfrom Guyhirn, Wisbech, with seven MercedesBenz 1625 and two Volvo F7 units. They showed strength in depth — some were as old as W-registered. Yet more Scanias were second (D. C. Ball) and third (Michael Faiers) in the fleet competition.
Not among the winners in this class was Sandy McCracken, who had brought five Scanias down from Larkhall near Glasgow. This is a 640-mile return journey and so the company had put a lot of effort into finding loads into the Peterborough area to pay for the trip. "We will be back again next year," promised Sandy, "and we'll be better prepared."
There were some tasteful and understated trucks and there were some outrageous, overthe-top trucks in the Custom Truck class sponsored by Eminox, which makes stainless steel vertical exhaust stacks.
In the end it was the more restrained ones that emerged as the winners. Mark Goddard's winning Volvo F12 Globetrotter is out of the ordinary but by no means garish. Even more subtle is the second-placed Scania 142 belonging to Rod Saunders. It is in three shades of blue, set off by stainless steel wheel trims, exhaust stack and polished aluminium bumper.
The very best trucks at Truckfest were in a separate enclosure and were real crowdpullers. They were the 20 invited trucks from the UK, Europe and Scandinavia taking part in the Shell Supertruck International Challenge.
Some were working vehicles; others were purpose-built show trucks. This was a sore point with Jean Carrion, who had travelled from Le Havre. He stressed that his Scania 142 was very much a working truck and could not be judged alongside the real showmen. He did not win but I think the reason was not connected with his complaint. His Scania ("Firebird") has every possible adornment, and then some more.
Svempa's Star Truck walked away with top prize and also won the competitions for best interior and best paintwork.
Around 2,000 hours have gone into converting this common-or-garden Scania 142 into a work of art. Another award for the Swedish Star Truck was the Trucking International "People's Choice" and the prize was a trip ...to Sweden! Svempa generously passed this on to the second-placed man in the Trucking International comp et iti on , Dave Miller of Royston, who was spending his honeymoon at Truckfest.
Two Danish Volvo F12 Globetrotters were second and third in the class.
Tags
People
:
Michael Faiers
,
Sandy McCracken
,
Dave Miller
,
Terry Redfearn
,
Jean Carrion
,
Ken Thomasfrom Guyhirn
,
Peter Cramer
,
Mark Goddard
,
Martyn Kemp
,
David Wilcox
,
Rod Saunders