Editorial Challenge these rulings
20th April 1985
Page 4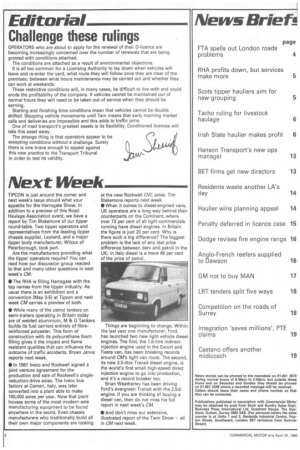 Page 4, 20th April 1985 —
Editorial Challenge these rulings
Close
OPERATORS who are about to apply for the renewal of their 0-licence are becoming increasingly concerned over the number of renewals that are being granted with conditions attached.
The conditions are attached as a result of environmental objections.
It is all too common for a Licensing Authority to lay down when vehicles will leave and re-enter the yard, what route they will follow once they are clear of the premises; between what hours maintenance may be carried out and whether they can work at weekends.
These restrictive conditions will, in many cases, be difficult to live with and could erode the profitability of the company. If vehicles cannot be maintained out of normal hours they will need to be taken out of service when they should be earning.
Starting and finishing time conditions mean that vehicles cannot be double shifted. Stopping vehicle movements until lam means that early morning market calls and deliveries are impossible and this adds to traffic jams.
One of road transport's greatest assets is its flexibility. Conditioned licences will take this asset away.
The strange thing is that operators appear to be accepting conditions without a challenge. Surely there is one brave enough to appeal against this new practice to the Transport Tribunal in order to test its validity.