The price is wrong
20th April 1985
Page 38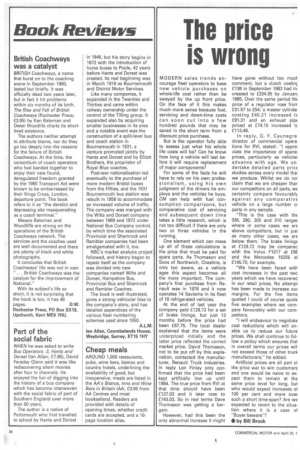 Page 38, 20th April 1985 —
The price is wrong
Close
MODERN sales trends encourage fleet operators to base new vehicle purchases on whole-life cost rather than be swayed by the up front price. On the face of it this makes much more sense because fuel, servicing and down-time costs can soon cut into a few hundred pounds that may be saved in the short term from a discount price purchase.
But is the operator fully able to assess just what his whole life costs will be? Can he know how long a vehicle will last before it will require replacement of major components?
For some of the facts he will have to rely on his own professionalism, using his own judgment of the drivers he employs and the vehicles he buys. CM can help with fuel consumption comparisons, but comparative cost of servicing and subsequent down time takes a little research, which is not too difficult if there are only two or three vehicles in the running.
One element which can mess up all of these calculations is the price that must be paid for spare parts. As Thomason and Sons of Northwich, Cheshire, is only too aware, as a vehicle ages this aspect becomes all the more important. The company's first purchase from Renault was in 1976 and it now operates 14 Saviems in its fleet of 18 refrigerated vehicles.
At the end of last year the company paid £129.72 for a set of brake linings, but just 13 months before the price had been £67.75. The local dealer explained that the items were underpriced initially and the latter price reflected the correct market price. David Thomason, not to be put off by this explanation, contacted the manufacturer, Renault Truck Industries. In reply Len Finlay only confirmed that the price had been kept artifically low up until 1984. The true price from RVI at that time should have been £137.03 and it later rose to £143.03. So in real terms Dave Thomason was getting a bargain.
However, had this been the only abnormal increase it might
have gone without too mud. comment, but a clutch costinE £136 in September 1983 had in
creased to £204.95 by Januan 1985. Over the same period the price of a regulator rose frorr £31.57 to £54; a master cylindei costing £45.21 increased tc £91.31 and an exhaust pipe priced at £74.15 increased tc £113.48.
In reply, G. F. Caunegre
director of commercial opera. tions for RVI, stated: "I appre,
ciate the importance of spare; prices, particularly as vehicle; advance with age. We un.
dertake detailed parts price studies across every model thai we produce. Whilst we do nol claim that we are cheaper thar
our competitors on all parts, WE certainly compare favourabIN
against any comparative vehicle on a large number 01 parts in any sample.
"This is the case with the SM, 280, 305 and 310 range5 where in some cases we are above competitors, but in jusl as many other cases, we are below them. The brake linings at £129.72 may be compared with the Volvo F1017 at £9E and the Mercedes 16255 al £145.70, for example.
"We have been faced with cost increases in the past two years which we have recovered in our retail prices. No attempl has been made to increase our margins. For the five items quoted I could of course quote five examples where we compare favourably with our cornpetitors.
"I will endeavour to negotiate cost reductions which will en able us to reduce our future prices. We shall continue to follow a policy which ensures that in overall terms our prices will not exceed those of other truck manufacturers," he added.
Artificial prices are all part al the price war to win customers and one would be naive to ex pect them to remain at the same price level for long, but who would expect increases oi 100 per cent and more over such a short time-span? Are we expected to revert to the situation where it is a case of "Buyer beware"?
• by Bill Brock