Part of the social fabric
20th April 1985
Page 38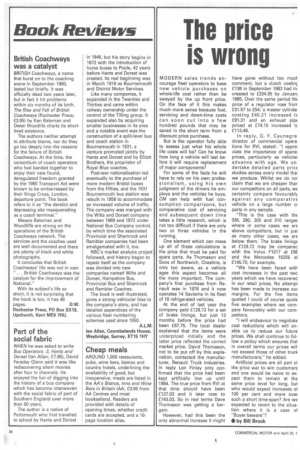 Page 38, 20th April 1985 —
Part of the social fabric
Close
WHEN he was asked to write Bus Operators: 3, Hants and Dorset (Ian Allan; £7.95), David Fereday Glenn said it was like rediscovering silent movies after four tv channels. He enjoyed the fun of digging into the history of a bus company which has become interwoven with the social fabric of part of Southern England over more than 60 years.
The author is a native of Portsmouth who first travelled to school by Hants and Dorset in 1946, but his story begins in 1872 with the introduction of horse buses to Poole, 42 years before Hants and Dorset was created. Its real beginning was in March 1916 as Bournemouth and District Motor Services.
Like many companies, it expanded in the Twenties and Thirties and came within railway ownership under the control of the Tilling group. It expanded also by acquiring smaller businesses in its area and a notable event was the construction of a split-level bus and coach station in Bournemouth in 1931, a venture promoted jointly by Hants and Dorset and by Elliott Brothers, the proprietor of Royal Blue coaches.
Post-war nationalisation led eventually to the purchase of more modern Bristol buses from the Fifties, and the 1931 Bournemouth bus station was rebuilt in 1958 to accommodate an increased volume of traffic. The company was merged with the Wilts and Dorset company between 1969 and 1972 under National Bus Company control, by which time the associated Provincial and Shamrock and Rambler companies had been amalgamated with it, too.
NBC's market analysis project followed, and history began to repeat itself as the company was divided into new companies named Wilts and Dorset, Hampshire Bus, Provincial Bus and Shamrock and Rambler Coaches.
The book is well illustrated, gives a strong vehicular bias to the company's story, and has detailed appendices of the various fleet numbering schemes used since 1950.
A.L.M.
Ian Allan, Coombelands House, Weybridge, Surrey, KT15 1HY