Book Reviews
20th April 1985
Page 38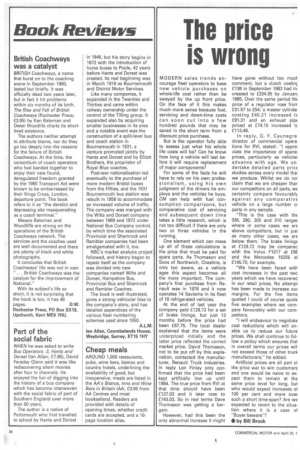 Page 38, 20th April 1985 —
Book Reviews
Close
British Coachways was a catalyst
BRITISH Coachways, a name that burst on to the coaching scene in September 1980, lasted but briefly. It was officially dead two years later, but in fact it hit problems within six months of its birth. The Rise and Fall of British Coachways (Rochester Press; £3.95) by Ken Bateman and Owen Wood life charts its shortlived existence.
The authors neither attempt to attribute blame, nor do they go too deeply into the reasons for the failure of British Coachways. At the time, the consortium of coach operators who had banded together to enjoy their new found, deregulated freedom granted by the 1980 Transport Act were known to be embarrassed by their Kings Cross, London, departure point. The book refers to it as "the derelict and depressing site masquerading as a coach terminal."
Messrs Bateman and Woodliffe are strong on the operations of the British Coachways network. The services and the coaches used are well documented and there are plenty of black and white photographs.
It concludes that British Coachways' life was not in vain " ... British Coachways was the catalyst for the improvement of National."
With its subject's life so short, it is not surprising that the book is too; it has 48
pages. D.W. Rochester Press, PO Box SX19, Upchurch, Kent ME9 7HU.