A century of bodybuilding
20th April 1985
Page 36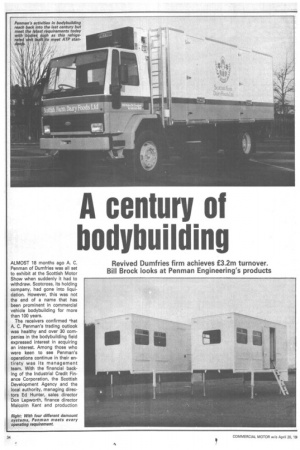 Page 37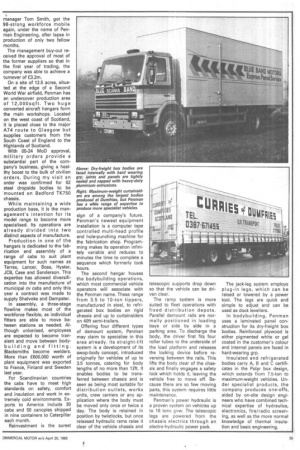 Page 36, 20th April 1985 —
A century of bodybuilding
Close
Revived Dumfries firm achieves 0.2m turnover. Bill Brock looks at Penman Engineering's products
ALMOST 18 months ago A. C. Penman of Dumfries was all set to exhibit at the Scottish Motor Show when suddenly it had to withdraw. Scotcross, its holding company, had gone into liquidation. However, this was not the end of a name that has been prominent in commercial vehicle bodybuilding for more than 100 years.
The receivers confirmed +hat A. C. Penman's trading outlook was healthy and over 30 companies in the bodybuilding field expressed interest in acquiring an interest. Among those who were keen to see Penman's operations continue in their entirety was its management team. With the financial backing of the Industrial Credit Finance Corporation, the Scottish Development Agency and the local authority, managing directors Ed Hunter, sales director Don Lepworth, finance director Malcolm Kent and production manager Tom Smith, got the 98-strong workforce mobile again, under the name of Penman Engineering, after lapse in production of only two fallow months.
The Management buy-out received the approval of most of the former suppliers so that in the first year of trading, the company was able to achieve a turnover of £3.2m.
On a site of 12.5 acres, situated at the edge of a Second World War airfield, Penman has an undercover production area of 1 2,0 0 Osqft. Two huge converted aircraft hangars form the main workshops. Located on the west coast of Scotland, it is placed close to the major A74 route to Glasgow but supplies customers from the South Coast of England to the Highlands of Scotland.
With 05-24 MoD approval, military orders provide a substantial part of the company's business, giving a healthy boost to the bulk of civilian orders. During my visit an order was confirmed for 62 steel dropside bodies to be 'mounted on Bedford TK750 chassis.
While maintaining a wide production base, it is the management's intention for its model range to become more specialised. Its operations are already divided into two distinct aspects of manufacture.
Production in one of the hangars is dedicated to the fabrication and assembly of a range of cabs to suit plant equipment for such names as Terrex, Lancer, Boss, Hyster, JCB, Case and Sanderson. This expertise has allowed diversification into the manufacture of municipal cv cabs and only this year a contract was made to supply Shelvoke and Dempster.
In assembly, a three-stage flowline makes most of the workforce flexible, as individual fitters are able to move between stations as needed. Although unionised, employees are expected to become transient and move between bodybuilding and fitting. Blacksmiths become welders. More than £600,000 worth of plant equipment was exported to France, Finland and Sweden last year.
For Scandinavian countries the cabs have to meet high standards on safety, comfort and insulation and work in extremely cold environments. Exports to America include 30 cabs and 50 canopies shipped in nine containers to Caterpillar each month.
Reinvestment is the surest sign of a company's future. Penman's newest equipment installation is a computer tape controlled multi-head profile and hole-punching machine for the fabrication shop. Programming makes its operation infinitely variable and reduces to minutes the time to complete a sequence which formerly took hours.
The second hangar houses the bodybuilding operations, which most commercial vehicle operators will associate with the Penman name. These range from 3.5 to 10-ton tippers, manufactured in steel, to refrigerated box bodies on rigid chassis and up to curtainsiders on 40ft semi-trailers.
Offering four different types of demount system, Penman may claim to specialise in this area already. Its straight-lift system is a development of its swop-body concept, introduced originally for vehicles of up to 3.5 tonnes, catering for body lengths of no more than 12ft. It enables bodies to be transferred between chassis and is seen as being most suitable for distribution outlets, works units, crew carriers or any application where the body must be moved only once or twice a day. The body is retained in position by twistlocks, but once released hydraulic rams raise it clear of the vehicle chassis and telescopic supports drop down so that the vehicle can be driven clear.
The ramp system is more suited to fleet operations with fixed distribution depots. Parallel demount rails are normally positioned in loading bays or side by side in a parking area. To discharge the body, the driver first fits four roller tubes to the underside of the load platform and releases the locking device before reversing between the rails. This lifts the body clear of the chassis and finally engages a safety lock which holds it, leaving the vehicle free to move off. Because there are so few moving parts, this system requires little maintenance.
Penman's power hydraulic is a proven system on vehicles up to 16 tons gvw. The telescopic legs are powered from the chassis electrics through an electro-hydraulic power pack. The jack-leg system employs plug-in legs, which can be raised or lowered by a power tool. The legs are quick and simple to adjust and can be used as dock levellers.
In bodybuilding, Penman uses a laminated panel construction for its dry-freight box bodies. Reinforced plywood is either pigmented white or gel coated in the customer's colour and internal panels are faced in hard-wearing grp.
Insulated and refrigerated bodies carry A, B and C certificates in the Polar box design, which .extends from 7.5-ton to maximum-weight vehicles. Under specialist products, the company produces one-offs, aided by on-site design engineers who have combined technical expertise of hydraulics, electronics, fire/radio screening, as well as the more normal knowledge of thermal insulation and basic engineering.