Daf rises Volvo falls
20th April 1985
Page 21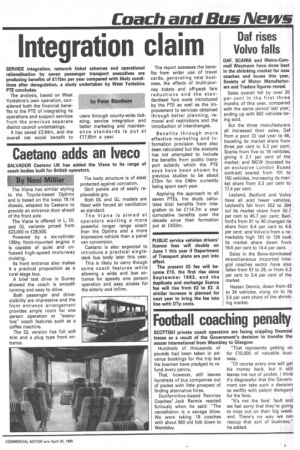 Page 21, 20th April 1985 —
Daf rises Volvo falls
Close
DAF, SCANIA and Metro-Cammell Weymann have done best in the shrinking market for new coaches and buses this year, Society of Motor Manufacturers and Traders figures reveal.
Sales overall fell by over 20 per cent in the first three months of this year, compared with the same period last year, ending up with 862 vehicles being sold.
But the three manufacturers all increased their sales, Daf from a poor 33 last year to 46, boosting its market share from three per cent to 5.3 per cent; Scania from five to 18 vehicles, giving it 2.1 per cent of the market; and MCW (boosted by an exclusive London Buses contract) soared from 101 to 150 vehicles, increasing its market share from 9.3 per cent to 17.4 per cent.
Leyland, Bedford and Volvo have all sold fewer vehicles. Leyland's fall from 552 to 394 cut its market share from 50.7 per cent to 45.7 per cent; Bedford's from 91 to 40 changed its share from 8.4 per cent to 4.6 per cent; and Volvo's from a remarkably high 181 to 124 took its market share down from 16.6 per cent to 14.4 per cent.
Sales in the Bova-dominated miscellaneous imported integral coaches sector have also fallen from 57 to 29, or from 5.2 per cent to 3.4 per cent of the market.
Hestair Dennis, down from 42 to 34 vehicles, clung on to its 3.9 per cent share of the shrinking market.