Unfair dismissal pay
20th April 1985
Page 16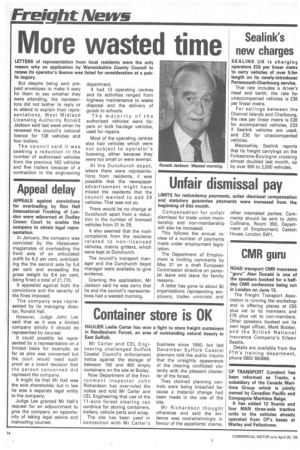 Page 16, 20th April 1985 —
Unfair dismissal pay
Close
Keywords :
Unfair Dismissal
,
Employment Law
,
Employment
,
Labour Relations
,
Age Positive
,
Termination Of Employment
,
Employment Compensation
,
United Kingdom Agency Worker Law
,
Labor
,
Law / Crime
,
Politics
LIMITS for redundancy payments, unfair dismissal compensation and statutory guarantee payments were increased from the beginning of this month.
Compensation for unfair dismissal for trade union membership and non-membership will also be increased.
This follows the annual review of a number of payments made under employment legislation.
The Department of Employment is inviting comments by May 31 on a draft European Commission directive on parental leave and leave for family reasons.
A letter has gone to about 30 organisations representing employers, trades unionists and other interested parties. Comments should be sent to John Cullinane, Room 350, Department of Employment, Caxton House, London SW1.