Appeal delay
20th April 1985
Page 16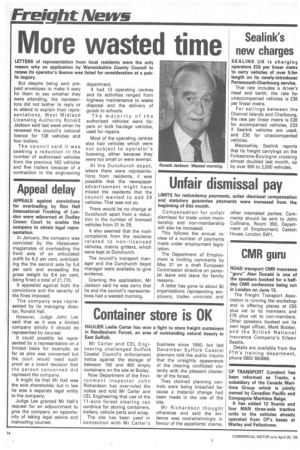 Page 16, 20th April 1985 —
Appeal delay
Close
APPEALS against convictions for overloading by Ron Hall International Trucking of London were adjourned at Dudley Crown Court to enable the company to obtain legal representation.
In January, the company was convicted by the Halesowen magistrates of overloading the front axle of an articulated outfit by 6.3 per cent, overloading the the second axle by 5.4 per cent and exceeding the gross weight by 8.4 per cent, being fined a total of £1,770.
It appealed against both the convictions and the severity of the fines imposed.
The company was represented by its managing director, Ronald Hall.
However, Judge John Lee said that as it was a limited company strictly it should be represented by counsel.
It could possibly be represented by a representative on a limited basis for example, as far as plea was concerned but the court would need such proof as a board decision that the person concerned did represent the company.
It might be that Mr Hall was the sole shareholder but in law he was a separate legal entity to the company.
Judge Lee granted Mr Hall's request for an adjournment to give the company an opportunity of taking legal advice and instructing counsel.