One Hears
20th April 1916
Page 3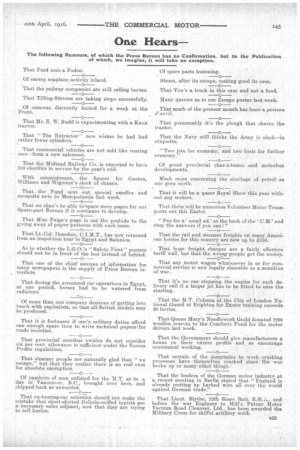 Page 3, 20th April 1916 —
One Hears
Close
The following Rumours, of which the Press Bureau has no Confirmation, but to the Publication of which, we imagine, it will take no exception, That Ford uses a Foden.
Of enemy seaplane activity inland.
That the railway companies are still selling horses.
That Tilling-Stevens are taking steps successfully.
Of cameras discreetly buried for a week at the Front That Mr. E. W. Rudd is experimenting with a Knox tractor.
That "The Extractor" now wishes he had had rather fewer cylinders.
That commercial vehicles are not sold like touring' cars—from a new salesman.
That the Midland Railway Co. is expected to have 200 electrics in service by the year's end.
With astonishment, the figures for Gaston, Williams and Wigmore's stock of chassis.
That the Fund sent out special candles and mosquito nets to Mesopotamia last week.
That we shan't be able to spare more pages for our Sparc-part Bureau if it continues to develop.
That Miss Paige's page is not the prelude to the giving awaY of paper patterns with each issue.
That Lt.-Col. Donohue, has now returned from an inspection tour in Egypt and Salonica.
As to whether the L.G.O.'s " Safety First" posters . should not be in front of the bus instead of behind.
That one of the chief sources of information for many newspapers is the supply of Press Bureau interdicts.
That during the armoured Car operations in Egypt, at one period, horses had to be watered from radiators.
Of more than one company desirous of getting into touch with capitalists, so that all-British models may be produced.
That it is fortunate if one's military duties afford one enouFh spare time to write technical pa,pers'for trade societies.
That provincial omnibus owners do not consider six per cent. allowance is sufficient, under the Excess Profits regulations.
That steamer people are naturally glad that "we escape," but-that they realize there is no real case for absolute exemption.
Of numbers of men enlisted for the M.T. at 6s. a day in Vancouver, B.C., brought over here, sand shipped back as unwanted.
That ex-touring-ear salesmen should not, make the mistake that short-skirted Delysia-coiffed typist's are a necessary sales adjunct, now that they are trying to sell lorries. Of spare parts humming.
Steam, after its escape, making good its case. That Vim's a truck in this case and not a food. Many queries as to our Escape poster last week.
That much of the present month has been a poisson (1' rit That presumably it's the plough that chases the tractor.
That the Navy still thinks the Army is slack—in etiquette.
"Two jets for economy, and twe fuels for further economy."
Of great provincial char-bsbancs and motorbus developments.
Much more concerning the shortage of petrol as one gees north. —0 That it will be a queer Royal Show this year with out any motors.
"Pay for a' small ad.' at the back of-the C.M.' and stop the answers if you can That the rail and steamer freights on. ma,ny _American lorries for this country are now up to 2150.
That huge freight charges are a fairly effective tariff wall, but that the wrong people get the money.
That any motor wagon whatsoever in or for commercial service is now legally classable as a munition of war..
That it's no , use stopping the engine for each delivery call if a larger jet has to be fitted to ease the starti That the M.T. Column of the City of London National Guard at Brighton for Easter training exceeds 20 lorries.
That Queen Mary's Needlework Guild donated 1200 woollen scarves to the Comforts Fund for the motor drivers last week.
That the Government should give manufacturers a bonus on their excess profits and so encourage economical working.
That certain of the companies to work cracking processes have themselves cracked since the war broke up so many other things.
That the leaders of the German motor industry at a recent meeting in Berlin stated that "England is already putting up barbed wire all over the world against German trade," That Lieut. Blythe, 12th Siege 11ntt. and before the war Engineer to Hill's Patent Motor Vacuum Road Cleanser, Ltd.. has been awarded the Military Cross for skilful artillery work.