Answers to Queries.
20th April 1916
Page 21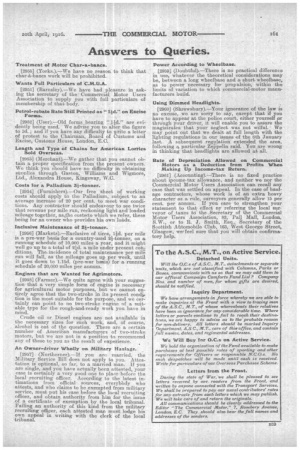 Page 21, 20th April 1916 —
Answers to Queries.
Close
Keywords :
Treatment of Motor Char.a.bancs.
[2955] (Yorks.).—We have no reason to think that char-A-banes work will be prohibited.
Wants Full Particulars of C.M.U.A.
[2951] (Barnsley).—We have had pleasure in asking the secretary of theCommercial Motor Users Association to supply you with full particulars of membership of that body.
Petrol-rebate Rate Still Printed as " lid.on Excise Forms.
[2952] (User).—Old forms bearing "id." are evidently being used. We advise you to alter the figure to 3d.; and if you have any difficulty to write a letter of protest to the Chairman, Board of Customs a,nd Excise, Customs House, London, E.C.
Length and Type of Chains for American Lorries Sold Overseas.
[2953] (Merchant).---We gather that you cannot obtain a proper specification from the present owners. We think you should have no difficulty in obtaining siinnlies through Gaston, Williams and Nirigmore, Ltd., Alexandra House, Kingsway, W.C.
Costs for a Palladium 31-tonner.
[2954] (Furnishers).—Our free sheet of working costs should apply Co the Palladium, subject to an average increase of 20 per cent, to meet war conditions. Any contractor should endeavour tome twice that revenue per mile run, reckoning light and loaded mileage together, asthe eostsrto which we refer, theSe being for an owner who provides his own lads.
Inclusive Maintenance of 21-tonner.
[2956] (Market).—Exclusive of tires, lid. per mile is a pre-war basis for a country-used 24-tonner, on a running schedule of 10,000 miles a year, and it might well go up to a total of 21d, a mile under present con; ditions. Thedneidence of total maintenance per mile run will fall, as the mileage goes up per week, until it goes down to 1.I5d. (pre-wax basis) for a running schedule of 20,000 miles per annum.
Engines that are Wanted for Agrimotors.
[2958] (Farmer).—We quite agree with your suggestion that a very simple form of engine is necessary for agricultural motor purposes, but we cannot entirely agree that the two-stroke in its present condi, tion is the most suitable for the purpose, and we certainly can point to no two-stroke engine of a suitable type for the rough-and-ready work you have in mind.
Crude oil or Diesel engines are not available inthe necessary sizes for such work, and, of course, alcohol is out of the question. There are a certain number of American manufacturers of two-stroke motors, but we are not in a position to recommend any of these to you as the result of experience.
An Owner-driver Wholly on Military Haulage.
[2957] . (Northerner).—If you are married. the Military Service Bill does not apply to you. Attestation is optional, so far, to a married man. If you are single, and you have actually been attested, your case is certainly a very good one to place before the local recruiting officer. According to the latest intimations from official sources, everybbdy who attests, and who claims to be exempted from military service, must put his ease before the local recruiting officer, and obtain authority from him for the issue of a certificate of exemption by the local tribunal. Failing an authority of this kind from the military recruiting offiger, each attested man must lodge his own appeal in writing with the clerk of the local tribunal. Power According to Wheelbase.
[2959] (Doubtful).—There is no practical difference in use, whatever the theoretical considerations may be, between a long wheelbase and a short wheelbase, as to power necessary for propulsion, within the limits of variation to which commercial-motor manufacturers build.
Using Dimmed Headlights. • [2960] (Shrewsbury).—Your ignorance of the law is no excuse, we are sorry to say, except that if you have to appear at the police court, either yourself pr throngh your driver, it will enable you to assure the magistrates that your neglect was not wilful. We may point out that we dealt at full length with the lighting regulations in our issues of the 6th January last. A subsequent .regulation extended the area, following a particular Zeppelin raid. You are wrong in thinking that headlights are allowed at all.
Rate of Depreciation Allowed on Commercial • Motors as a Deduction from Profits When Making Up Income-tax Return.
[2961] (Accounting).—There is no fixed practice about ipcome-tax allowance, and neither we nor the Commercial Motor Users Association can recall any case that was settled on appeal. In the case of haulage contractors, whose work is of an extra heavy character as a rule, surveyors generally allow 15 per cent, per annum. If you care to strengthen your statement to that effect ny referring the local surveyor of taxes to the ,Secretary of the Commercial Motor Users Association, 8 ,3 Pall Mall, London,
or to R. J. Smith, Esq., secretary of the Scottish Airtomobile Club, 163, West George Street, Glasgow, we' feel sure that you will obtain confirmatory help.