Utility Motors in France.
1st October 1908
Page 6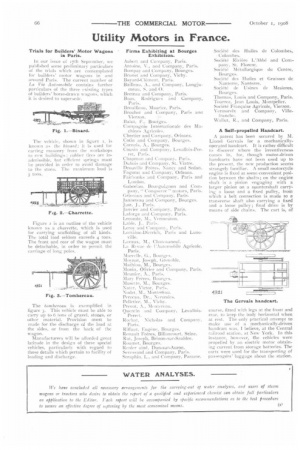 Page 6, 1st October 1908 —
Utility Motors in France.
Close
Trials Tor Builders' Motor Wagons in Paris.
In our issue of 17th September, we published sonic preliminary particulars of the trials \yhich are contemplated for builders' motor wagons in and around Paris. The current number of La Vie Automobile contains further particulars of the three existing types of builders' horse-drawn wagons, which it is desired to supersede.
The vehicle, shown in figure i, is known as the board; it is used for carting masonry from the workshops to new buildings: rubber tires are inadmissible, but efficient springs must be provided in order to avoid damage to the stone. The maximum load is 5 tons.
Figure 2 is an outline of the vehicle known as a cliarrette, which is used for carrying scaffolding of all kinds. The total load seldom exceeds 4 tons. The front and rear of the wagon must be detachable, in order to permit the carriage of long poles.
The tom bereau is exemplified in figure 3. This vehicle must be able to carry up to 6 tons of gravel, stones, or other material. Provision must be made for the discharge al the load at the sides, or from the hack of the wagon.
Manufacturers will be afforded great latitude in the design of these special vehicles, particularly with regard to those details which pertain to facility of loading and discharge. Firms Exhibiting at Bourges Exhibition.
Aubert and Company, Paris, Antoine, V., and Company, Paris. Bornpay and Company, Bourges. Brunet ;Lod Company, Vichy. Bayard-Ckanent, Paris.
Bailleau, A., and Company, Longjumeau, S. amid. 0.
Breteau and Company, Paris.
Boas, Rodrigues and Company, Paris.
Brouilleau, Maurice, Paris.
Brouhot and Company, Paris anti Vierzon.
Balm, F., Bourges.
Compagnie Internationale des MaChines .kgricoles.
Chertier and Company, Orleans. Cotin and Company, Bourges. Cornois, A., Bourg-es.
Cousin and Company, Levallois-Perret, Paris.
Chapman and Company, Paris. Dubois and Company, St. Viatre. Drouville Freres, Nanoand Sedan. Fagotat and Company, Orleans. Fairbanks and Company, Paris and
London.
Gaboriau, Bourguignon and Com pany, " Conqueror " motors, Paris. Griyeaux and Company, Paris. janneteau and Company, Bourges. Just, J., Paris. .
janvier and Company, Paris. Laforge and Company, Paris. Lecomte, M., Vermouton.
Lable, J.. Paris.
Leroy and Company, Paris.
Lorraine-Dietrich, Paris and Luneville.
Lavaux, Chatemtneuf.
La Revue de FAutomobile Agricole, Paris.
M:ireelle, U. .13(airges.
Moynat, Joseph, Grenoble.
Mathion, M., Bourges.
Monin, Olivier and Company, Paris.
Meunier, A., Paris.
Mary 1:1->res, Maffei's.
!Musette, M., Bourg-es.
Nater, Victor, Paris.
Nodet. M., Montereau.
Perccate Dr., Nerondes.
Pelletier, M., Vichy.
Preyot, A., Montereau.
Ouentin and Company, Levallois Perret.
Rocielt, Nicholas and CompanY, Paris.
Riffaut, F.11!r(!lle, Bourges.
Renault Freres, Billancourt, Seine.
Rut, Joseph, Brinon-sur-Sauldre.
Roumet, Bourges.
Renier aina, Dun-sur-Auron.
Sevessand and Company, Paris.
Seraphin, L., and Company, Parame. Societe des Huiles de Colombes, • Colonibes.
SocietO Riyiere L'Abbe and Company, St. Florent.
Soci6tO Metallurgique du Centre, 13ourges.
Socie.1.6 des Huiles et Graisses de Nanterre, Nanterre.
SociOt(i d•(.! Usines de Mesieres, Bourges. .
Thomas, Louis and Company, Paris. Tourrez, Jean Louis, Montpelier. Socike Francaise ..Agricole, Vierzon. ''ertnorelx and Company, Ville franche.
Wailut, R., arid Company, Paris.
A Sell-propelled Handcart.
A patent has been secured by M. Lionel Gervais for a mechanicallyoperated handcart. It is rather difficult io discover where the inventiveness comes in, for, though motor-driven handcarts have not been used up to the present, the new production seems strangely familiar. A small motorcycle engine is fixed at some convenient position between the shafts; on the engine shaft is a pinion engaging with a larger pinion on a countershaft carrying a loose and a fixed pulley, from which a belt connection is made to a transverse shaft also carrying a fixed and a loose pulley; final drive is by means of side chains. The cart is, of
course, fitted with legs at the front and rear, to keep the body horizontal when at rest, The only practical .attempt to make use of a mechanically-driven handcart was, I believe,' at the Central railroad station, at New York. In this instance, however, the vehicles were propelled by an electric motor obtaining current from storage batteries. The carts were used for the transporting of passengers' luggage about the station.