Going up with a ban
1st May 1982
Page 8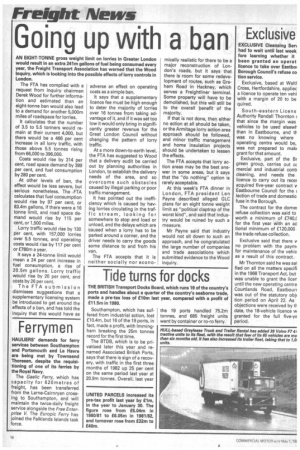 Page 8, 1st May 1982 —
Going up with a ban
Close
AN EIGHT-TONNE gross weight limit on lorries in Greater London would result in an extra 241m gallons of fuel being consumed every year, the Freight Transport Association has warned that the Wood Inquiry, which is looking into the possible effects of lorry controls in London.
The FTA has complied with a request from Inquiry chairman Derek Wood for further information and estimated than an eight-tonne ban would also lead to a demand for another 5,000m miles of roadspace for lorries.
It calculates that the number of 3.5 to 5.5 tonners would remain at their current 4,000, but there would be a 466 per cent increase in all lorry traffic, with those above 5.5 tonnes rising from 66,000 to 396,000.
Costs would rise by 314 per cent, road space demand by 399 per cent, and fuel consumption by 280 per cent.
At other levels of ban, the effect would be less severe, but serious nonetheless. The ,FTA calculates that fuel consumption would rise by 97 per cent, or 83.4m gallons, if there were a 16 tonne limit, and road space demand would rise by 115 per cent, or 1,500 miles.
Lorry traffic would rise by 130 per cent, with 157,000 lorries over 5.5 tonnes, and operating costs would rise by 117 per cent or £780m a year.
It says a 24-tonne limit would mean a 24 per cent increase in fuel consumption, a rise of 20.5m gallons. Lorry traffic would rise by 20 per cent, and costs by 26 per cent.
The FTA submission dismisses suggestions that a supplementary licensing system be introduced to get around the effects of a ban, and has told the Inquiry that this would have as adverse an effect on operating costs as a simple ban.
It says that a supplementary licence fee must be high enough to deter the majority of lorries over 16 tonnes from taking advantage of it, and if it was set too low it would only bring in significantly greater revenue for the Great London Council without changing the pattern of lorry traffic.
At a more down-to-earth level, the FTA has suggested to Wood that a delivery audit be carried out by planning authorities in London, to establish the delivery needs of the area, and so overcome such obstacles caused by illegal parking or poor traffic management.
It has pointed out the inefficiency which is caused by having lorries circulating in the traff i c stream, looking for somewhere to stop and load or unload, and the delays which are caused when a lorry has to be parked around a corner, and the driver needs to carry the goods some distance to and from his van.
The FTA accepts that it is neither socially nor econo mically realistic for there to be a major reconstruction of London's roads, but it says that there is room for some redevelopment of routes, such as Graham Road in Hackney, which serves a Freightliner terminal. Some property will have to be demolished, but this will still be to the overall benefit of the majority.
If that is not done, then either no action at all should be taken, or the Armitage lorry action area approach should be followed, and minor traffic management and home insulation projects should be undertaken to lessen the effects.
The FTA accepts that lorry action areas may be the best answer in some areas, but it says that the "do nothing" option is rarely acceptable.
At this week's FTA dinner in London, FTA president Len Payne described alleged GLC plans for an eight tonne weight limit as "political claptrap of the worst kind", and said that industry would be ruined by such a measure.
Mr Payne said that industry would not sit down to such an approach, and he congratulated the large number of companies and trade associations which submitted evidence to the Wood inquiry.