Exclusive
1st May 1982
Page 8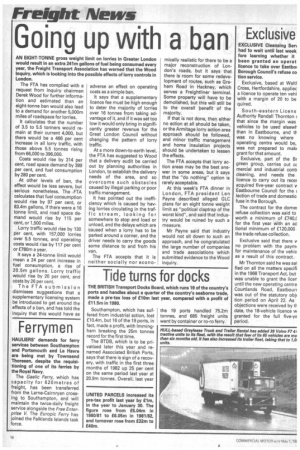 Page 8, 1st May 1982 —
Exclusive
Close
EXCLUSIVE Cleansing Sen had to wait until last week, fore learning whether it been granted an operat licence to take over Eastba Borough Council's refuse co tion service.
Exclusive, based at Walt! Cross, Hertfordshire, appliec a licence to operate ten vehi with a margin of 20 to be quired.
South-eastern Licens Authority Randall Thornton that since the margin was vehicles to be used elsewh than in Eastbourne, and if was no knowing where operating centre would be, was not prepared to maki grant for that amount.
Exclusive, part of the Br green group, carries out cc mercial and industrial conti cleaning, and needs the licence to carry out its recei acquired five-year contract v Eastbourne Council for the lection of trade and domestic fuse in the Borough.
The contract for the domer refuse collection was said to worth a minimum of f740,( for the first year with an ac tional minimum of £120,000 the trade refuse collection.
Exclusive said that there v no problem with the paym■ for maintenance of the vehic as a result of this contract.
Mr Thornton said he was sal fied on all the matters specifi in the 1968 Transport Act, but was unable to grant the licer until the new operating centre Courtlands Road, Eastboun was out of the statutory obji tion period on April 22. As objections were received by th date, the 18-vehicle licence w granted for the full five-YE period.