Moonlight driver loses claim
1st May 1982
Page 7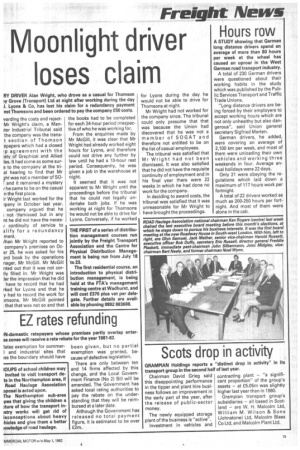 Page 7, 1st May 1982 —
Moonlight driver loses claim
Close
RY DRIVER Alan Wright, who drove as a casual for Thomson iy Grove (Transport) Ltd at night after working during the day J. Lyons & Co, has lost his claim for a redundancy payment nst Thomsons and been ordered to pay the company £50 costs.
marding the costs and rejectMr Wright's claim, a Man;ter Industrial Tribunal said the company was the transt section of Thomson .spapers which had a closed ip agreement with the iety of Graphical and Allied ies. It had come as some sure to the company at the trial hearing to find that Mr ght was not a member of SOF and it remained a mystery r he came to be on the casual n the first place.
Ir Wright last worked for the ipany in October last year.
company argued that he ; not -iismissed but in any nt he did not have the feces( continuity of service to alify fore redundancy ment.
Men Mr Wright reported to company's premises on Ocer 25, he was asked for his Drd book by the operations nager, Mr McGill. Mr McGill nted out that it was not cortly filled in. Mr Wright was ier the impression that he did have to record that he had rked for Lyons and that he y had to record the work for Dmsons. Mr McGill pointed : that that was not so and that the books had to be completed for each 24-hour period irrespective of who he was working for.
From the enquiries made by Mr McGill, it was clear that Mr Wright had already worked eight hours for Lyons, and therefore could not drive any further by law until he had a 10-hour rest period. Consequently, he was given a job in the warehouse at night.
It seemed that it was not apparent to Mr Wright until the proceedings before the tribunal that he could not legally undertake both jobs. If he was working at night for Thomsons he would not be able to drive for Lyons. Conversely, if he worked for Lyons during the day he would not be able to drive for Thomsons at night.
Mr Wright had not worked for the company since. The tribunal could only presume that that was because the Union had discovered that he was not a member of SOGAT and therefore not entitled to be on the list of casual employees.
The tribunal was satisfied that Mr Wright had not been dismissed. It was also satisfied that he did not have the requisite continuity of employment and in his final year there were 22 weeks in which he had done no work for the company.
In deciding to award costs, the tribunal was satisfied that it was unreasonable for Mr Wright to have brought the proceedings.